Golf Stories
Three BGS golfers qualify for Men's Amateur
Posted On: Thursday, May 25, 2017
Qualifier held at Blue Mountain Golf & Country Club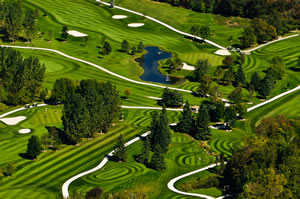 Three golfers from the BruceGreySimcoe region qualified for the Ontario Men's Amateur at an event today at Blue Mountain Golf and Country Club.

Braydon White of Tangle Creek Golf and Country Club near Barrie shot 76 and finished 6th, Jordan Guenette of Barrie Country Club fired a 78 and finished 10th and Brady Zordan carded a 79 and tied for 11th.

Only 12 golfers at the event qualified for the Amateur, which will be held July 11-14 at Ambassador Golf Club in Windsor.

Another six advanced to the Final Qualifier set for June 20 at Tarandowah Golfers Club.

Among those making it to final qualifying were Tyler Cormier of OslerBrook Golf and Country Club in Collingwood and Mac Crawford of Utopia, Ontario (near Barrie) who both shot 80 and tied for 16th place.

Finishing first at the qualifier was Logan Lammerant of Seaforth Golf Course. He shot 74.