Golf Stories
Houghton 8th at Ont. Sr. Women's Championship
Posted On: Tuesday, August 3, 2021
Georgian Bay Club golfer shoots 83 in final round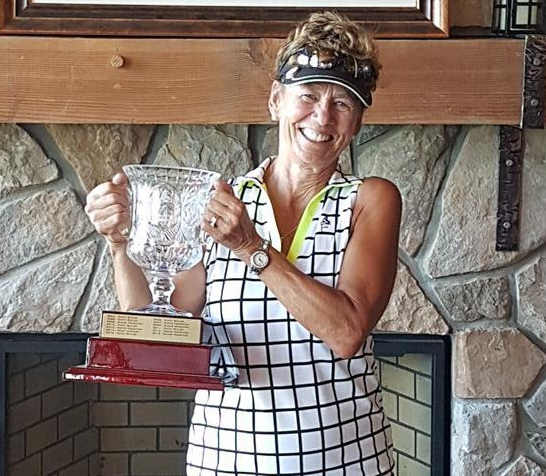 Kathie Houghton in file shot after winning the championship at Georgian Bay Club.


Two golfers from BruceGreySimcoe finished in the top 12 at the Ontario Senior Women's Championship.

Kathie Houghton of Georgian Bay Club fired a final round 83 to move into 8th place and Kim Legge of Saugeen Golf Club had a final round 93 to end up in 11th spot.

Houghton's first two rounds were 85-87 while Legge carded rounds of 83-82.

Yvonne Fraser of National Pines Golf Club near Barrie (95-94-96) was 17th while GBC golfer Catherine Butler (93-96-100) finished 18th.

The winner was Judith Kyrinis of the Thornhill Club who had rounds of 74-69-67 and finished at -3.

The event, being held at Spring Lakes Golf Club north of Markham, had gross and net flights and a 60+ division.

Results among BruceGreySimcoe golfers, all of them from Midland G & CC, are:
A Flight Net
12th Angela Penfound
T-14th Shelley Gianetto
T-14th Susan Rooney
20th Kim Dubeau

A Flight gross are:
12th Shelley Gianetto
16th Susan Rooney
T-18th Dubeau
23rd Angela Penfound

For full results, CLICK HERE.