Golf Stories
Solid showing by local pros
Posted On: Thursday, June 24, 2021
At Toronto Players Tour event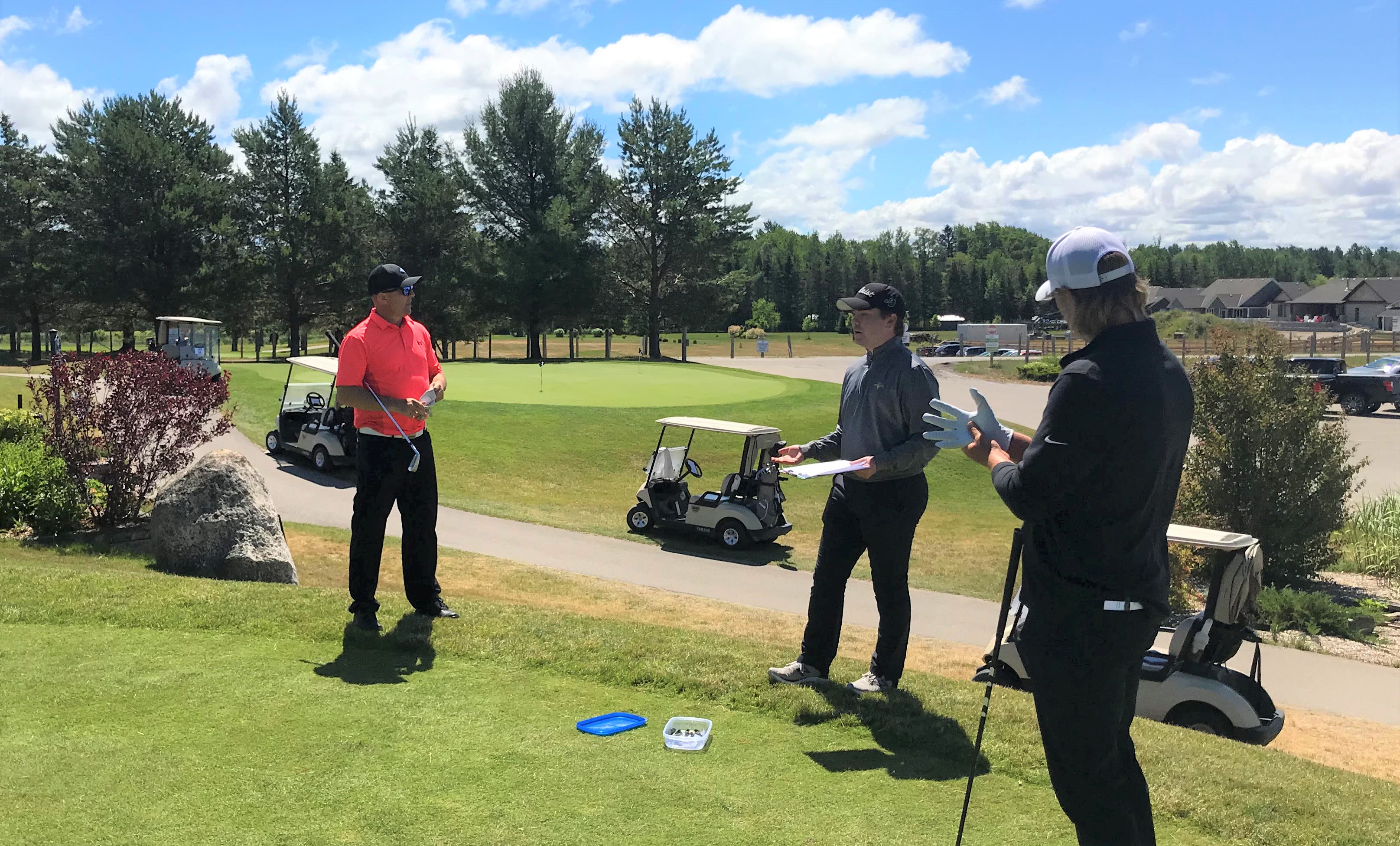 Cobble Beach Golf Links pro Warren Thomas, left, with Jakob Ain (centre) of the Toronto Players Tour and pro Mike Gonko prior to teeing off in the TPT Pro-Am at Saugeen Golf Club.

There were some notable performances by local golfers in the recent Toronto Players Tour Pro-Am held earlier this season at Saugeen Golf Club.

Playing against some of the best pros in Ontario, Cobble Beach Golf Links Executive Golf Professional Warren Thomas fired rounds of 75-78 and finished 27th.

His was the best result among local pros and combined with amateur playing partner Ty Smith to shoot -9 and win the team division of the Pro-Am.
Results:
1.Warren Thomas & Ty Smith -9
T2.Chris Wilson & Matt Ross -8
T2.Austin Ryan & Garrett Bott -8
T4. Luke Moser & Jayne Lassen -7
T4.Zach Giusti & Al Kanters -7
T4.Thomas Code & Mateo Rocha -7
T4.Andrew Ledger & Justin Latimer -7
8.Josh Whalen & Matt Shields -6
Winnings:
1st. $400
T2nd.$250
T4th. $77.50
8th. $50
In the individual competition some other local pros turned in a solid performances. Saugeen assistant pro Riley Schaus carded rounds of 76-81 and tied for 28th.

Jeff Aljoe, a Durham resident who has turned pro and is doing his apprenticeship at Pike Lake Golf Centre, shot 76-82 and was 30th.

Another Cobble Beach pro - Ryan McBride - shot 83-77 and was 31st.

Also competing were Blake Mackey from Walkerton who shot 79-85 and was 34th, Saugeen Director of Golf Robbie Oliver, who shot 86-84 and was 38th, and local amateur Jack Middleton, who shot 87-88 and was 38th.

Another golfer with local connections – former Owen Sound-area resident Austin Ryan – turned in a strong performance, shooting 68-73 and finished 3rd.

He earned $1,700.

Ryan is currently 2nd on the tour's Order of Merit list.
The winner was Toronto pro Chris Wilson, who shot 68-67 and pocketed $4,250.