Golf Stories
Corey's Connections
Posted On: Monday, April 12, 2021
Listowel golfer has ties to BruceGreySimcoe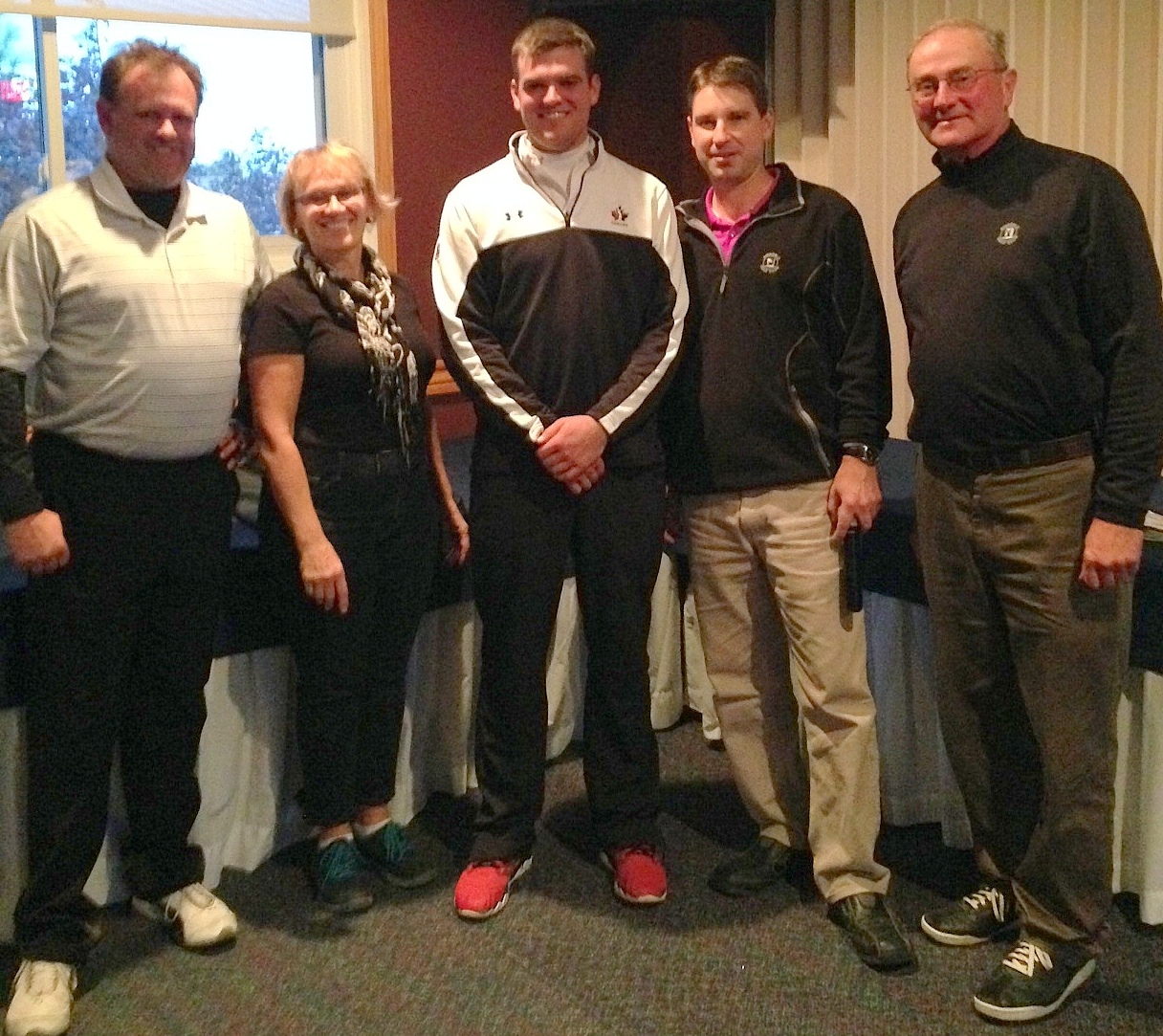 Corey Conners participated in a 54-hole scramble at Ainsdale Golf Course near Kincardine in 2014. From left are, Mike Conners (Corey's father), Kathy Mackay, Corey Conners, Joey Rettinger, Ainsdale's pro at the time, and Al Mackay, who owned Ainsdale along with his wife Kathy at the time.


Corey Conners, who tied for 8th in the 2021 Masters and aced the 6th hole at Augusta National on Saturday, has some strong connections to the BruceGreySimcoe region.

He grew up just outside of the region in Listowel and played some of his junior golf at BlackHorse golf course near Kincardine while his family vacationed at nearby Fishermen's Cove.

He also played in tournaments in the area, including a 54-Hole Scramble at Ainsdale Golf Course in 2014 with his father Mike.
Mike and his brother Steve have also played in spring and fall events at Whispering Hills Golf Club near Hanover and Mike won First Low Net in the 2010 Fall Field Day.
The Kincardine tournament was held the same year as Corey finished runner-up in the U.S. Amateur championship - a result that first qualified him for the 2015 Masters.
Playing as an amateur, he shot 80-69 at Augusta National and missed the cut.
He qualified for the Masters for the first time as a pro by winning the Valero Texas Open in 2019.

He Monday qualified for the Texas event by sinking a 20-foot putt on the 18th hole to get into a 6-for-one spot playoff which he won with a birdie on the first hole.
Then he became only the 5th player in PGA Tour history to win an event after Monday qualifying.
And his final round was one of the wildest winning rounds ever seen on the PGA Tour.
He carded four birdies on the first five holes, then stumbled with 4 consecutive bogeys. But rather than let the wheels fall off, he bounced back with 6 birdies over the final 9 holes to shoot 66 and claim his first PGA Tour victory.
Conners' strong performance at this year's Masters comes after some excellent play in tournaments leading up to the event.

He was 3rd at the Arnold Palmer Invitational, 7th at the Players Championship and tied for 14th at the Valero Texas Open.

He also has the distinction of having the lowest round ever by a Canadian during the Masters – a 65 shot during the 2020 Masters, held in November. He finished tied for 10th at that event.