Golf Stories
Memorable 2 weeks with Sean Connery
Posted On: Saturday, October 31, 2020
Pauline Kelly was recruited to help 007 with golf game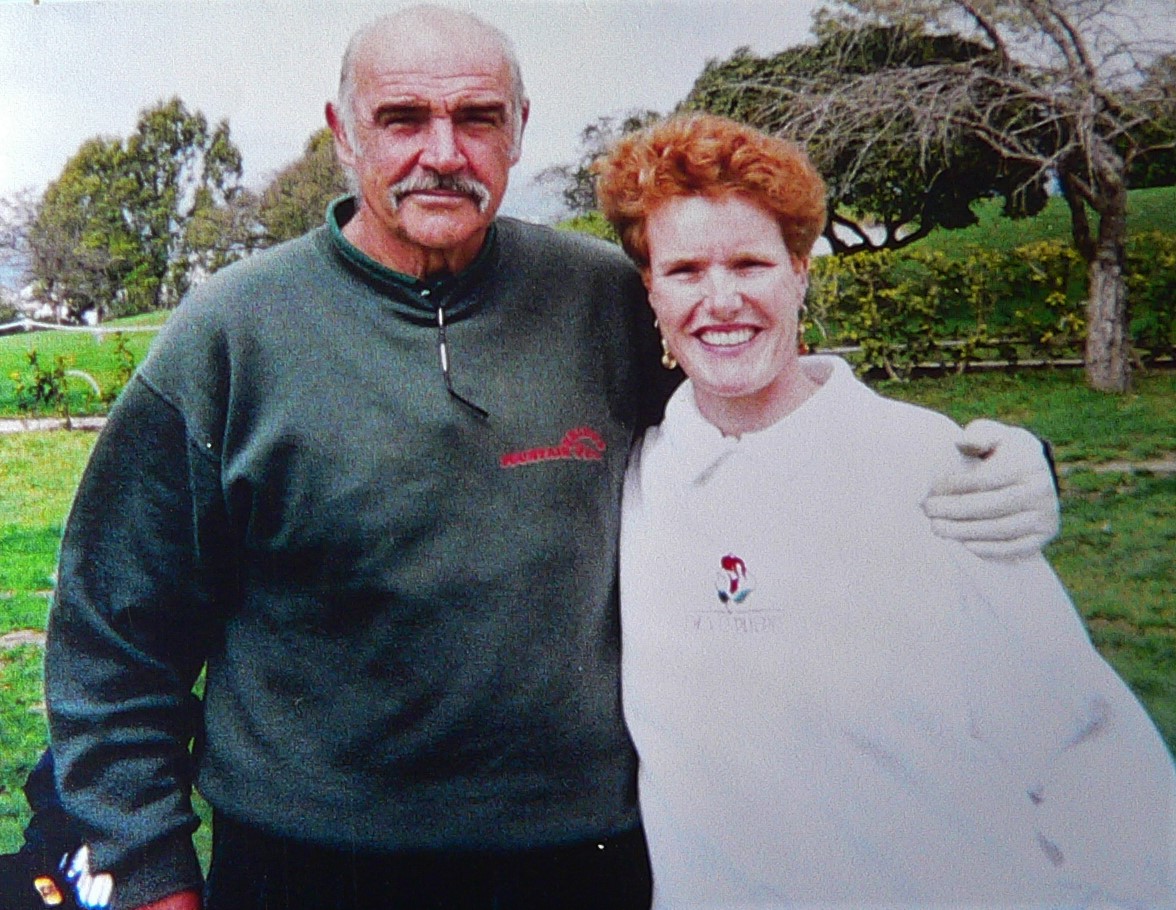 Sean Connery with Pauline Kelly, a top amateur golfer who moved to the BruceGreySimcoe region in 2005.

By Steve Harron
Golf BruceGreySimcoe

It was an unlikely start to a friendship that would lead to one of the most memorable golf experiences in Pauline Kelly's life.
Years ago Kelly, a successful amateur golfer who moved to Grey-Bruce in 2005, was leading a training session at Brampton Golf Club and anxiously awaiting the arrival of the only student she didn't know - Hiam Bohsali.
"This car - a Mercedes convertible - flies into the parking lot and this woman with great big hair who was smoking a cigarette and wasn't dressed in a proper golf outfit gets out," Kelly recalled in a recent interview. "I introduced myself and she rapped me on the shoulder and said 'I know who you are and I want to beat you.' "
But before they could tee it up Kelly had to send Bohsali to the pro shop to get appropriate golf attire. They ended up playing together and even though there was a lot of cigarette smoke and some cursing coming from Bohsali, they enjoyed the round and Bohsali invited Kelly to play with her the next week at her home club - Devil's Pulpit in Caledon.
What Kelly didn't realize until she showed up at the private club was that Bohsali was married to Devil's Pulpit co-owner Chris Haney, co-inventor of the Trivial Pursuit board game.
The day ended up being special for Kelly as she set a new unofficial course record for women with a 69 and the same day was given an honourary lifetime membership at the club. The two remained friends and a few years later Kelly received a phone call from Bohsali, who had a favour to ask: "Would you be willing to help my friend Sean with his golf game?" No last name was given.
Kelly was a school teacher at the time and with "Bob Rae Days" in place in 1996 she had a two-week spring break. So she agreed to fly to Spain to help this friend. Bohsali took Kelly to the friend's beautiful home in Marbella which had views of the Mediterrean Sea on one side and the LaConcha Mountain on the other side and she was standing in the foyer when in walked actor Sean Connery, who's probably best known for his role as the original James Bond.
"Hiam was killing herself laughing and she said this is my friend Sean who you are helping with golf. I was star struck for the first minute but once you get over that whole thing nobody really cares what his title is," she said.
Bohsali, who met Connery through his wife Micheline, joined Kelly and Connery on the golf course over the two weeks they worked together.
They played 10 rounds, mostly at Valderrama where the Ryder Cup was played in 1997, and Sotogrande. Kelly, a former NCAA player with the University of Northern Iowa, helped Connery with course management and learning to "commit to the shot."
The conversation mostly revolved around golf and Connery didn't talk about his acting career. "He was a very good golfer and just very gracious," Kelly said.
"He was kind, funny and kind of a humble guy. It was an awesome two weeks."

Editor's note: This is an excerpt from a profile of Pauline Kelly that was originally published in May 2015.