Golf Stories
Amateur team beats the pros
Posted On: Friday, October 9, 2020
3-Player Scramble at Saugeen Golf Club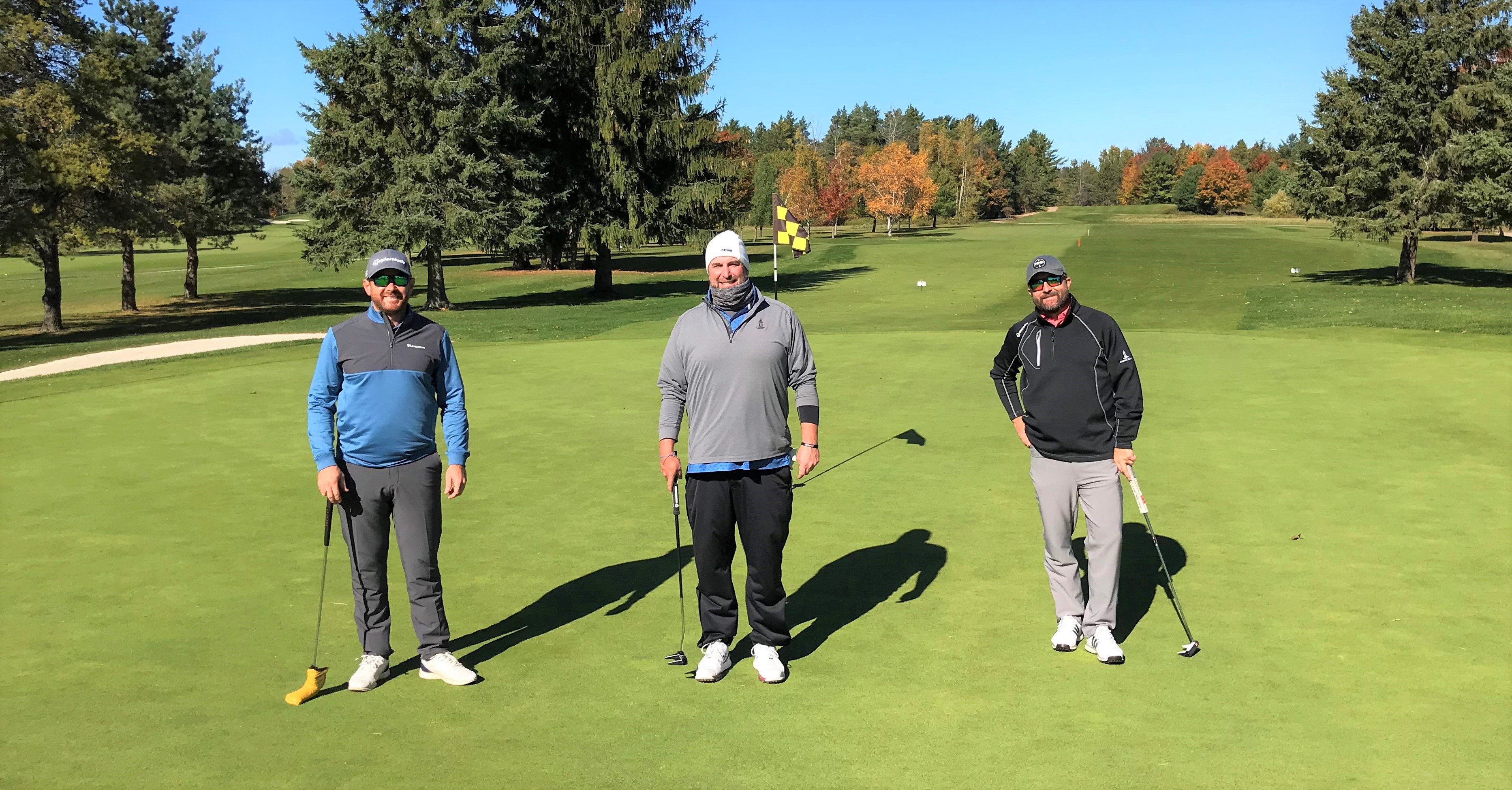 This team of pros, from left, Dan Payton of Oliver's Nest near Lindsay, Ryan McBride and Warren Thomas, both of Cobble Beach Golf Links, shot -21 and finished tied for 5th at the Toronto Players Tour 3-Player Scramble at Saugeen Golf Club.

A team of elite amateurs shot -27 over 27 holes to win the Toronto Players Tour 3-Player Scramble on Tuesday at Saugeen Golf Club.

The winning team included Cougar Collins, the Ontario Men's Amateur Champion and Golf Canada Team Member, and his Eastern Michigan University teammates Zach Mason and Ty Celone.

The team, which had 5 eagles on the day, decided not to accept the $10,000 first place cash to preserve their amateur status.

The money was then redistributed to the other top finishers.

The top team with local players on it included Cobble Beach Golf Links pros Warren Thomas and Ryan McBride and Dan Payton of Oliver's Nest near Lindsay. They shot -21 and collected $2,000 in winnings.

The second place team included former Owen Sound golfer Austin Ryan, a tour pro who now lives in the Kitchener-Waterloo area. His teammates were fellow pros Brandon Leonard, and Vic Ciesielski.

They finished at -25 and took home $6,000.

Results of other local teams:
Mark Hoffman's team -17 (Mark is from Wasaga Beach)
Greg Shaw's team -14 (Greg is from Pike Lake)
Robbie Oliver, Ty Smith (Saugeen), and Kyle Kirkland -12 but won the only skin worth $1,000 after holing out for eagle on Legacy 7
BJ Oliver's team -11
Brad Young and Riley Shaus's Saugeen team -10
Jeff Aljoe's team -10
Team Saugeen (Ken Dunlop, Stig Lassen, and newest member Ron Kerr) playing to fill the field -10)

"It was a great event with the players leaving raving about the golf course," said Saugeen Director of Golf Robbie Oliver.
This was the second event for the TPT tour at Saugeen this year. The first was held Aug. 3-4 and was won by former Owen Sounder Austin Ryan in a five-hole playoff.