Golf Stories
Piazza wins junior championship
Posted On: Monday, July 27, 2020
Scores 10-stroke victory at Saugeen GC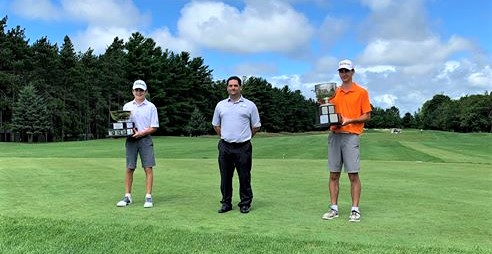 From left, Juvenile division winner Andreas Diogenous, Saugeen GM Brad Young and Junior winner Nolan Piazza.

Nolan Piazza of Cherry Hill Golf Club is the 2020 Ontario Junior Boys Golf champion.

He shot his lowest round of the tournament – a 6-under par 66 – today at Saugeen Golf Club to win the title by 10 strokes.

On the first three days he carded rounds of 69-69-70 so his total score was an impressive -14.

Finishing in a tie for second were Kiefer Bulau of King Valley Golf Club (76-70-70-68) and Andreas Diogenous of Whistle Bear Golf Club (73-73-70-68), who won the Juvenile division.

The top golfer from the BruceGreySimcoe region was Cade Preston of Barrie Country Club who shot 73-72—72-72 to finish tied for 10th.

Fellow Barrie CC member Michael Ikejiani went 72-71-76-71 to finish 14th. He also had the distinction of ending the tournament tied with Piazza for total birdies with 20.

Kevin Lee of National Pines Golf Club near Barrie shot rounds of 72-75-79-80 to finish
tied for 38th.



Click Here to view leaderboard.