Golf Stories
Hanover golfer wins college award
Posted On: Friday, May 1, 2020
Rachael Rier Female Athlete of year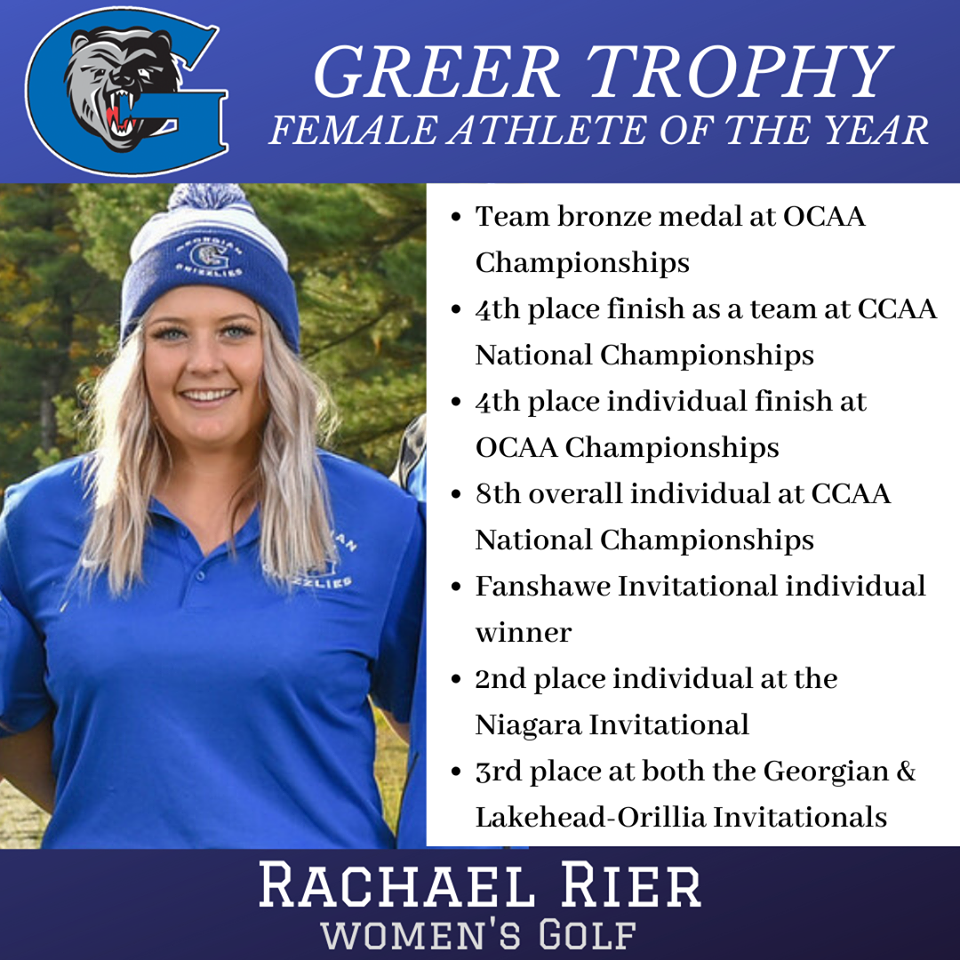 Rachael Rier had no idea how they arranged it, but she was thrilled when LPGA Tour star Lexi Thompson announced on video that Rachael had won Georgian College's Female Athlete of the Year award.

"It was an amazing surprise. My birthday's next week so that shout-out was the best early birthday present," she states in an email to Golf BruceGreySimcoe.

"It's an honour to be acknowledged by one of my biggest idols growing up. Lexi is such an inspiration as a strong female athlete in a male-dominated sport. I've always looked up to her so I was definitely freaking out a little when I heard her announce my name!"
The college was able to get Thompson to do the video after it made a donation to a charity she supports - the No Kid Hungry Foundation which provides meals to U.S. children from low-income families.

Rier, a Hanover, Ontario resident who played on the Grey Bruce Junior Golf Tour, received the award April 30 during a virtual athletic banquet.

It comes after a stellar season with the Grizzlies women's golf team.

Her individual accomplishments included:
1st at the Fanshawe Invitational
2nd at the Niagara Invitational
3rd at both the Georgian College and Lakehead-Orillia invitationals
4th at the Ontario Collegiate Athletic Association (OCAA) championship
8th at the Canadian Collegiate Athletic Association (CCAA) championship
Team accomplishments:
4th at CCAA championship
3rd at OCAA championship

Rier's achievements at Georgian come after spending two years competing as a member of the golf team at Davenport University in Grand Rapids, Michigan.

During her final season there, the team broke team scoring records and made it to the final match play championship.

The decision to leave was based on academics and her passion for golf as she switched from Sports Management at Davenport to Golf Management at Georgian.

It has turned out to be a good decision.

"Of course, it's great to be recognized as Georgian's Female Athlete of the Year, and I'm so thankful for the path that's led me here. Everyone made my transfer to Georgian stress-free and it's a place I can really excel in. I plan to return in the fall and hopefully see even more success next season!"

In the meantime, she is looking forward to getting back eventually to her summer job in the pro shop at Pike Lake Golf Centre.



To watch the video message from Lexi Thompson

CLICK HERE



To watch a Thank You Video from Rachael

CLICK HERE