Golf Stories
Barrie's Wilson wins championship
Posted On: Friday, September 6, 2019
Shoots 74-69 to take Public Amateur title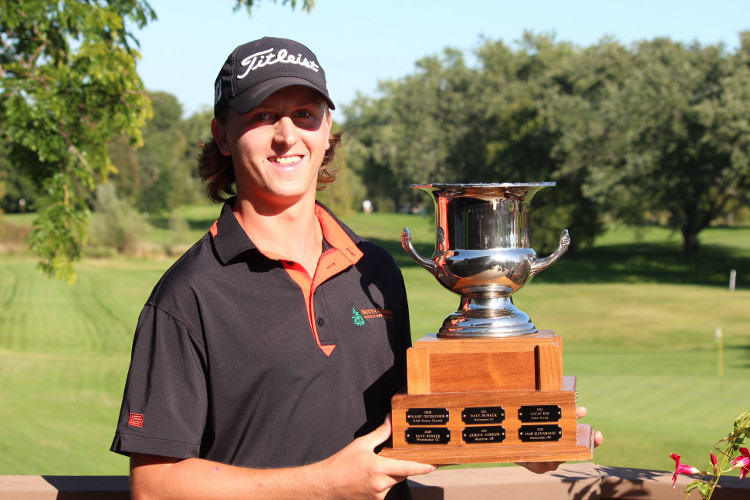 Jeremy Wilson of Barrie (in photo above) shot rounds of 74-69 to win the Ontario Public Amateur Championship.
He finished with a +1 total for a two-shot victory over 2nd place finisher Peter Willis of Aurora.
With some hot play out the gate on Thursday, the 24-year-old Wilson played one of the best rounds of his career - carding four birdies and only two bogeys.
The first half of the tournament was a battle between Willis and Mark Wiebe (St. Catharines, ON), but Wilson quickly stole the spotlight after going 3-under after 9 on Thursday.

Showing maturity and the ability to be consistent, Wilson continued this success the rest of the way through, and despite some pressure from the players trailing, he maintained composure and finished the round with a tournament-low -2 round to secure the win.
Last year Wilson finished runner-up in the championship, losing to Shyamal Nagindas (Aurora, ON) in the final round.
"It's an awesome feeling to be able to come back and win it," Wilson told Golf Ontario. "Second last year was still a success in my books but definitely the end goal was to win it all." When asked about the pressures of being a finalist last year and to continue to have success, Wilson pointed out that there's always pressure to perform.
"You always want to better yourself. I knew there would be talented competition out there again this year so there was definitely some added pressure there, but overall I'd say this wasn't anything new to me."
As for the B and C flights, it was Derek Baird (Etobicoke, ON) and Andrew Schlegel (Newmarket, ON) who took home the hardware. Baird won the B flight with an impressive net score of +2, while Schlegel won the C flight with a net score of +3.
Four other golfers from the BruceGreySimcoe region participated in the event. Their results are as follows:
T-10th Jeff Aljoe of Durham (77-76)
T-28th Wentworth Willock of Bradford (82-80)
T-36th Jordan Guenette of Minesing (84-80)
T-36th Justin Arrowsmith of Bradford (78-86)
For full results, CLICK HERE
The tournament was held at Meadowbrook Golf and Country Club in Gormley (northeast of Richmond Hill).