Golf Stories
Around the Clubs
Posted On: Sunday, September 1, 2019
Recent aces, league results and more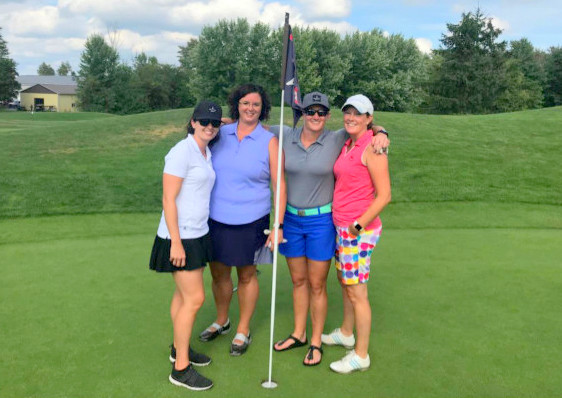 The Pike Lake Ladies Scramble was played recently with 35 teams (140 ladies) from across the province participating. The Listowel Golf Course team of Jen Berfelz, Mae Brooks, Katrina Klemp and Erica MaGee won in a playoff. Results below.

Hole-in-One Club
Aug. 28 - Dave Blenkinsop with a 5-iron from 151 yards on #17 at Ainsdale Golf Course.
Aug. 28 - Ted Carthy with a 6-iron from 151 yards on #17 at Ainsdale.
Aug. 28 - Grant Clark on #3 at Kincardine Golf Club.
Aug. 27 - June Sinfield with a driver from 112 yards on Sunset 5 at Saugeen Golf Club.
Aug. 26 - Bill Henry with a 6 iron from about 155 yards on #2 at Legacy Ridge Golf Club during Seniors League play. Witnessed by playing partners John Murdoch, Don Gransden and Ken Mortley.
Aug. 23 - Lauren Alexander of Windsor with an 8-iron from 98 yards on #12 at Ainsdale Golf Course.
Aug. 21 - Kathy Makcrow at Pike Lake during a Women's Scramble event. It was her first shot of day.
Aug. 20 - Paul Pagnan on Saugeen GC's Sunset #5. He was playing with John Woodley, Scott Rowland & Andy Kuperus.
Aug. 19 - Mike Stephenson of Cambridge Golf Club with a 9-iron on the 110-yard Sunset #5 at Saugeen Golf Club.
Aug. 12 - Robert Collins on #2 at Monterra golf club. It was his 2nd ace of the season at the club. His 1st was June 12 on #15.
Aug. 18 - Ken Quinn from 125 yards with a pitching wedge on #12 at Ainsdale Golf Course.

2019 PIKE LAKE LADIES SCRAMBLE RESULTS
"A" Flight Top Teams
1st (66) Jen Berfelz, Mae Brooks, Katrina Klemp, Erica MaGee
2nd (66) Gayle George, Carolyn May, Joan Cooper and Leslie Begg
3rd (67) Chris Kramer, Betty Ann Gauthier, Lesa Horan, Donna Armsworthy
4th (67) Paige Bell, Jessie Cameron, Courtney Brown, Lindsey Brown
"B" Flight Top Teams
1st (67) Cheri Fotheringham, Ingrid Benning, Diane McCulloch, Lori Woestenenk
2nd (68) Janice Miller, Norma Poel, Joan MacPherson, Betty Divok
3rd (69) Marilyn McQueen, Sandra Maas, Cindy Graham, Val McCrae
4th (69) Tressa Rozenbal, Amy Fischer, Carolyn Chapman, Leah Anne Goody
PIKE LAKE OPEN
Saturday August 17th , 2019
Jason Dunlap, of London, Ontario, was the winner of the 44th annual Pike Lake Open Men's tournament.
The field included 215 golfers with 8:00 am and 1:00 pm shotgun starts.
Champion Golfer - Jason Dunlap of London, Ontario 70

A Flight:
Gross
1. Jessie Piercy 71
2. Matt Chaisson 73
3. Shawn Cowen 74
4. Brandon Rumph 74

Net
1. Adam Casar 68
2. Rich Mackay 70
3. Scott Coburn 71
4. Scott Murray 73
B Flight
Gross
1. Ernie MacDonnell 75
2. Brett Bowman 78
3. Adam Bell 78
4. Nic Gowing 78

Net
1. Brad Shipley 65
2. Ian Faubert 70
3. Paul Duell 70
4. Bill Ellison 71
C Flight
Gross
1. Tyson Zimmerman 79
2. Rob Corbett 82
3. Grant Kuhn 83
4. Chuck Meklensek 84

Net
1. Derek Osborne 65
2. Ian Shipp 68
3. Roy Keighley 69
4. Bill Howe 69
D Flight
Gross
1. John Barbosa 86
2. Don Cruise 90
3. Chris Sommerville 93
4. Bill Sizer 94
Net
1. Neil Carson 64
2. Steve MacDonnell 64
3. Mike Kaake 69
4. Chuck Vandenbroek 70
Senior & Super-Senior
Gross
1. Phil Carleton 72
2. Rob Widmeyer 74
3. Sonny Mohammed 74
4. Herb Cowen 76
Net
1st Mike Garvey 66
2. Gary Davis 67
3. Phil McInerney (SS) 68
4. Larry Weber 68
Legacy Ridge
"IT'S AN ILL WIND THAT BLOWS NOBODY ANY GOOD!"
Steady Eddys (349) blew away Stan's Army(378) for first place on the final week before the Playoffs. Roughneckers (355) blew away Weapons of Grass Destruction (372) and Birdie Boyz (365) completed the blow fest defeating Stairway to Heaven (372).
The Pre-Payoff Season Standings show Steady Eddys (383) in first place. Well done Steady Eddys you have lived up to your team name and last night proved yourselves good wind players.
Weapons of Grass Destruction(366) are second. Birdie Boyz (359) third. Roughneckers (345) fourth. Stan's Army(335) fifth and Fairway to Heaven(303) in last place sixth. Its noteworthy that Biirdie Boyz have had the most weekly wins (9) of any team. But over the 15 Weeks 34 more bodies showed up for Steady Eddys than Birdie Boyz and Participation points count bigly.
Chad Currie (32) First Low Gross and Andrew Baines (34) second, didn't let the wind bother them Wednesday night. But judging by the top Low Gross results it did take it out of the sails of many of our regular low shooters. If you shot 40 or better you made the low fifteen list. Sam as low pro shot a windy forty and in the Beat The Pro category was beaten by fourteen golfers.
Will Graham (32) was best Low Net and Andy McKee, Wayne Lee, and Jeff Raymond one back (34). Ten golfers posted Low Net 34.
PINS WINNERS ($74): HOLE 1: Kent Simpson (8'5"). Hole 2: Coy Culich (2'10"). Hole 3: Logan Strauss (40'5"). Hole 6: Ed Grandman (Keg). Hole 7: David Huntley (24'4"). Hole 8: Dave Rowney (7'1"). Hole 9: Jim Stewart (29'4").
50/50 Draw Winner ($100): Terry Duncan
Senior Men's League
Aug. 26 results:
The regular season has come to a close…onto the Playoffs!
Thanks to everyone who played in Monday's Senior League shotgun. A great morning of golf followed by a tasty meal.
The Grip Rippers closed the season with a W. The team accumulated 216 Stableford points and won the week by 8 points. Roger Reed, Jim Stewart, Michael Rea, Mike McManus, Neil Havens and Dan Blackburn all contributed to the team score. All team members will add $4.36 to their credit book for their efforts.
The Grip Rippers will now head into the playoffs with a commanding 34-point lead. But will they be able to hold it? A hot team will now have two weeks off Seniors League competition before they put a tee in the ground…Time will tell!
The top-5 Stableford Point earners:
1st- Ken Harwood – Taylormade Project (a) Golf Balls
2nd- Wim Kruisselbrink- Taylormade Project (a) Golf Balls
3rd- D'Arcy Honer- Legacy Ridge Headcover
4th- Roger Reed- Adidas Socks
5th- Jim Stewart- Tripe Bogey Golf Towel
Pins Winners:
#1 - Michael Rea
#9 - Ken Mortley
#12 - John Swallow
#13 - John Murdoch
#17 - Tom Doherty
#18 - Tom Doherty


Ainsdale
Men's Night Results: Thursday, August 29th
This Week's Sponsor: West Grey Premium Beef
A Flight Winners (net)
1st: Derek McBride 36.5 $36.00
2nd: Jon Thompson 37.6 $30.00
3rd: Gordon Yoon 37.8 $24.00
4th: Brad Knight 38.0 $18.00
5th: Jeramey Dinsmore 39.4 $12.00
A Flight Skins Winners
Jon Thompson 4 on 11 $48.00
Don Turcotte 2 on 12 $48.00
B Flight Winners (net)
1st: Tony Stapley 36.8 $30.00
2nd: Dale Walden 37.8 $25.00
3rd: Dave Neilipovitz 39.2 $20.00
T4th: Sebastien Garneau, Darren Cook 39.3 $12.50 each
B Flight Skins Winners
Sebastien Garneau 3 on 13 $40.00
Mark Smith 3 on 18 $40.00
C Flight Winners (net)
1st: Kevin Connell 35.9 $22.50
2nd: Don Martyn 37.2 $18.75
3rd: Adam Burgess 39.4 $15.00
4th: Jim Guenther 39.9 $11.25
5th: Al Matheson 40.7 $7.50
C Flight Skins Winners
Jim Guenther 3 on 12 $60.00
D Flight Winners (net)
1st: Victor DeGuzman 35.8 $30.00
T2nd: Nick Locking, Drew Armstrong 36.0 $22.50 each
4th: Mike Fair 36.2 $15.00
5th: Ken Gardner 36.3 $10.00
D Flight Skins Winners
Drew Armstrong 2 on 10 $26.67
Chad Colling 4 on 16 $26.67
Nick Locking 4 on 14 $26.67
50/50 Draw Winner: Jordan Ball - $39.50 on club credit
Draw Prize Winners – Thanks to West Grey Premium Beef!
1. Callaway Hat – Sean Poisson
2. Callaway Hat – Drew Armstrong
3. Under Armour Belt – Gordon Yoon
4. Under Armour Belt – George Coulter
5. 2 Callaway Chrome Soft X Sleeves – Rory Ingham
Men's Night Results: Thursday, August 22, 2019
This Week's Sponsor: Coca Cola
A Flight Winners
1ST: Steve Jolley 32.5 $43.50
2ND: Charles Candler 32.6 $36.25
3RD: Dana Murray 33.9 $29.00
T4TH: Don Turcotte, Gary Chambers 34.1 $18.10
A Flight Skins Winners
Steve Jolley 2 on 7 $116.00
B Flight Winners
1ST: George Coulter 31.5 $22.50
2ND: Mike Meraw 34.0 $18.75
3RD: Tom Uzzell 35.8 $15.00
4TH: Dennis Schmidt 36.0 $11.25
T5TH: Jordan Ball, Mike Doyle 36.3 $3.75
B Flight Skins Winners
George Coulter 3 on 2 $27.20
Dave Neilipovitz 3 on 1 $27.20
Jason Nowakowski 2 on 8 $27.20
Blair Pollock 3 on 5 $27.20
Dennis Schmidt 3 on 6 $27.20
C Flight Winners
1ST: Kyle Gallant 30.8 $31.50
2ND: Sebastien Garneau 31.9 $26.25
3RD: Darren Cook 32.1 $21.00
4TH: Jim Martin 33.4 $15.75
5TH: Duane Kocela 33.9 $10.50
C Flight Skins Winners
Kyle Gallant 3 on 5 $42.00
Duane Kocela 3 on 7 $42.00
D Flight Winners
1ST: Al Holl 31.1 $34.50
2ND: Brendon Collison 32.4 $28.75
T3RD: David Blenkinsop, Matt Lovie 32.5 $20.10
5TH: Adam Burgess 33.0 $11.50
D Flight Skins Winners
Brendon Collison 3 on 7 $46.00
Phil Thompkins 3 on 6 $46.00
50/50 Draw Winner: Mike Doyle $44.00 on club credit!
Draw Prize Winners – Thanks to Coca Cola for being tonight's sponsor!
1. 2 Chrome Soft X Sleeves – Jason Nowakowski
2. 2 Chrome Soft X Sleeves – Dana Murray
3. 2 Chrome Soft X Sleeves – Kevin Connell
4. 2 Chrome Soft X Sleeves – Brendon Collison
5. Callaway Men's Hat – Blair Chaput
6. Callaway Thermal Grip Gloves – Dave Beamish
Ladies Day Results: Aug. 20, 2019
This Week's Sponsor: Stella & Dot-Alexis Gallant
A Flight Winners
1st: Antoinetta MacDonald 32 $7.00
T 2nd: Debby Antler, Denise Tighe 34 $4.50
A Flight Skins Winners
Antoinetta MacDonald 5 on 9 $10.67
Susan Morrison 2 on 8 $10.67
Maureen Peet 3 on 1 $10.67
B Flight Winners
T 1st: Colleen Douglas, Bev Ramage 31 $6.00
3rd: Gloria Coulter 32 $4.00
B Flight Skins Winners
Colleen Douglas 2 on 7 $9.50
Alexis Gallant 5 on 9 $9.50
Sandy Petter 4 on 6 $9.50
Deb Quinn 2 on 3 $9.50
C Flight Winners
1st: Sandy Liddle 27 $7.00
2nd:Marianne Irwin 32 $5.00
3rd: Barb Lansink 35 $4.00
C Flight Skins Winners
Sandy Liddle 4 on 2, 4 on 4, 5 on 6 $19.50
Ethel McDonald 4 on 1 $6.50
D Flight Winners
1st: Michele Lanthier 34 $7.00
2nd: Betty Hunter 36 $5.00
3rd: Mary Ferguson 37 $4.00
D Flight Skins Winners
Michele Lanthier 5on 1, 4 on 3 $5.34
Angela Thompkins 6 on 2 $2.67
50/50 Draw Winner: $28.50 in Club Credit to Jean Rhude
Draw Prize Winners - Thanks to Alexis Gallant of Stella & Dot for being
our Sponsor!!
1. Deb Pegg – Jewellery Bag and Jewellery
2. Colleen Douglas – Jewellery Bag and Jewellery
3. Beth Mimnagh – Jewellery Bag and Jewellery
4. Camo Carry Bag – Shawna Small
Kincardine Golf Club
Men's Night - Aug. 22
1st place had a tie between Neil Geoghegan and Jordan Ross
2nd place had a tie between Eric MacLeod and Sean Morris