Golf Stories
Regier sets course record
Posted On: Monday, July 29, 2019
Shoots 63 at Ainsdale Golf Course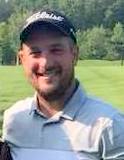 Ainsdale Golf Course member Derek Regier has established a new course record at his home course.
He fired a 63 from the Trillium (middle) tees on Thursday, July 25.
He shot 33 (-2) on the front, which counted as his Men's League score, and an incredible 30 (-7) on the back.
It is definitely the lowest round since Charles and Taylor Candler took ownership of the course in 2017 but it's also believed to be the lowest ever recorded (no club history of course records has been kept).