Golf Stories
Zhu on winning team
Posted On: Thursday, July 25, 2019
At Canadian Women's Amateur Championship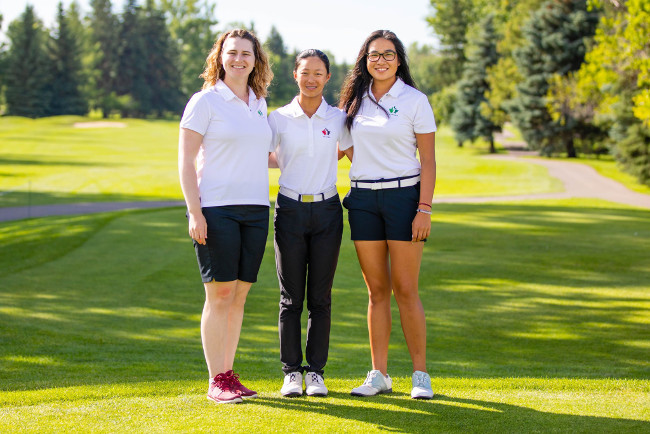 Emily Zhu, centre, with Ontario teammates Sarah Dunning and Tiana Cruz (right).

Team Ontario won the Inter-Provincial team competition at the Canadian Women's Amateur Championship, with Emily Zhu of National Pines Golf Club near Barrie, Sarah Dunning of Waterloo and Tiana Cruz of Richmond Hill combining for a score of +18.
Team British Columbia finished in second, two shots back.
This is Ontario's first time winning the Inter-Provincial competition since 2014 and their 39th time claiming the team championship since it was inaugurated in 1947.
Zhu fired rounds of 78-75, Cruz 76-77 and Dunning 80-82.
Zhu and Cruz missed the cut by just one stroke while Dunning missed by 10.
The leader after Day 2 was Jennifer Chang of Cory, North Carolina who posted rounds of 69-67.

The championship, being played at Red Deer Golf and Country Club, resumes today and wraps up on Friday (July 26).

For full results, CLICK HERE