Golf Stories
Around the Clubs
Posted On: Saturday, July 20, 2019
Latest aces and league results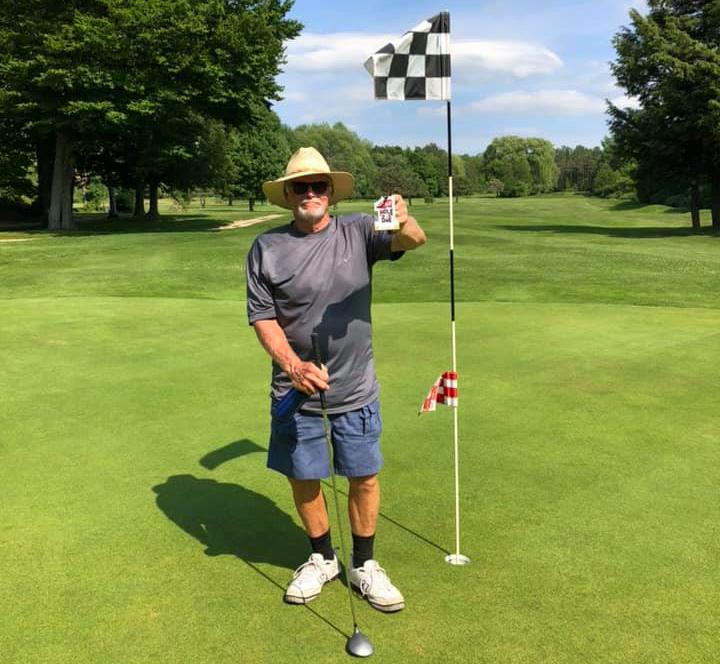 Ken Ritz scored an ace on #3 at Kincardine Golf Club on July 18.

Hole-in-One Club
July 18 - Ken Ritz on #3 at Kincardine Golf Club.
July 16 - Barrie Wykes with a 9-iron on #9 at Scenic City Golf Course. He was playing with his wife Gale Wykes.
July 14 - Matt Chiasson with a 5-iron on #17 at The Golf Club at Lora Bay.
July 14 - Sean Miller with an 8-iron on #12 at The Golf Club at Lora Bay.
July 11- Diane Chambers on #3 Millennium at Meaford Golf Course. It came during league play with the 18-hole ladies group and her playing partners were Anne Thompson, Karin Moyer and Lou Fowler.
July 7 - Whispering Hills Golf Club member Ken Schneider, 55, of Owen Sound with a 6-iron from 191 yards on #10 at his home club. It was witnessed by playing partners Dave Kirkconnell, Pat Morris, Wayne Reinhardt and Rob Soers. The ace, 3rd of his life, helped him shoot 67 (-4).
Legacy Ridge
Men's League
July 17
WGD WINS AGAIN!
Weapons of Grass Destruction (353) win for the second week in a row. Fairway to Heaven (354) takes second place. And Steady Eddys (360) ended up in last place this week. Roughneckers and Stan's Army ignominiously tied at 359 are only one point better. In the overall Standings Steady Eddy's(225) keeps the lead despite this week's slide to the bottom of the weekly ranking. Now fourteen points ahead, they take a pretty firm grip on that lead due in part to excellent 'Participation' numbers and the avoidance of any 'Ties'.
Ryan Amyot celebrated his 32nd birthday by sharing the Low Gross Honours with Steve Coffey. Both men shot a spectacular gross 33. Ryan might credit the round to his birthday present; a newly acquired Callaway Epic Flash Driver. This was a season-best for Coff and a second time around 33 for Ryan.
Steve Coffey's Low Net 31 gives him the coveted Low Gross/Low Net Double. D.J Selkirk and Lloyd Wilson were one stroke back at 32 to share a worthy Low Net second. It was Coff's night for sure holing a 30'1" putt on #9 for a $70 Pin.
PINS ($77)
Hole 1 Phil Carleton 5'5", Hole 2 Urb Vanbendegem 1'6", Hole 4 Keg Mike Osborn, Hole 5 John Cho 15'9", Hole 6 Rick Burns 29'6", Hole 8 Larry MacLean 1'6", Hole 9 Steve Coffey 30'1".
50/50 Draw Winner: Brian Booth wins $102
Corey Feenstra's birdie on #6 gave him the lone skin worth $126 in the +3 to 4 Flight. Urb Vanbendegem must be very surprised to discover that he had the only deuce on #8 in Gross Flight 5 to 7 thus winning a skin worth $43.80. Andrew Warwick didn't win a skin this week in the Skins Net Flight 11 to 20 but must still be glowing in the aftermath of last week's rare to near impossible feat: A NET ONE on #16. For which he earned $12. Ah well, money isn't everything!
Bill Henry had a solo deuce in Deuce Pot Gross Flight 8 to 10 to win the tidy sum of $46. The Hole In One is the 'elephant' in the League Night room . Now worth over $4000 we all are thinking 'When is this going to happen?' This week Urb and Larry recorded identical proximity distances, 1'6", on #2 and #8.Close but no cigar!
Low Team
1st Weapons of Grass Destruction
2nd Fairway to Heaven
Low Gross
T1 Steve Coffey, Ryan Amyot
Low Net
1st Steve Coffey
T2nd Lloyd Wilson, D J Selkirk
July 10
Dog Days of Summer!
Weapons of Grass Destruction (322) eclipsed the field week eight. Birdie Boyz (335) were a distant second. The many who said this could never happen must now eat their words. In the overall season standings Steady Eddys are in the lead (204), Birdie Boyz (193) are second and Stan's Army (189) is third.
PINS ($76):
Hole 11 Greg McArthur (37'), Hole 12 Fred Hoekstra (3' 9"), Hole 13 Tom Doherty (65'), Hole 15 Keg Neil Havens, Hole 16 Bill Ottewell (20' 2"), Hole 17 Ryan Amyot (2' 1") , Hole 18 Rob Matheson (18' 6").
50/50 Winner is Jeff Harron $90
It wasn't Beat the Pro this week so much as Beat Up The Pro! Michael Todd (37) gotten beaten by no less than seven leaguers. Two of these gentlemen, Bill Ottewell(34) and Jim Wilson (35), require special mention: living the dream 'from obscurity to front page'! Just in case you hadn't noticed Jim Wilson has won the 50/50 twice this season Week 3 and Week 7.
In the skins department Gross Skin Flight +3 to 4, no skins last week, six skins this week. One wonders if the large carry-over was a head-concentrating factor. Whatever the reason, each of the skin-heads benefited to the sum of $50. Not to be outdone, Gross Skin Flight 5-7 produced zero skins this week creating a motivating $117 carry-over for next week.
Seniors League
July 15
Low Team
Stableford Hot Shots
(239)
Most Net Stableford Points
Tom Gordon (45)
Pins Winners
#2 - Steve McCrae
#5 - Ches Pietryszyn
#6 - Lance Thurston
#9 - Rob Matheson
#11 - Roy Morrison
#13 - Peter Hodgson
#14 - D'Arcy Honer
July 8
The Stableford Hot Shots take week 5
A great team effort by; Jeff Harron, Doug Sim, Roy Morrison, Captain Ches, Grant Hutchinson and Tom Gordon who combined for 240 Stableford points on Monday. We are looking deep into the record books to see if 240 points is a new Seniors League record. Each member of the team will add $6.44 to their credit books.
Up-to-Date League Standings:
1st The Grip Rippers (93)
2nd The Reigning Eagles (77)
3rd Stableford Hot Shots (70)
4th No Mulligans (61)
Pins Winners ($31.71):
LPM #5- Bob Kanduth – 27' 3"
CTP #8- Bob Kanduth – 2' 6"
LPM #9- Mike McManus – 15' 1"
CTP #12- Neil Havens – 5' 4"
CT the Keg #16- Peter Little
CTP #17- Lance Thurston – 2'2"
LPM #18- Peter Hodgson – 9'10"
NEED TO KNOW:
Bill Douglas had a career day; he shot a round of 68 which included EIGHT Birdies. He accumulated 48 Stableford points (which wins him a free Appetizer in the Clubhouse). And he won three skins worth $15 each. Congrats on a great round, Bill!
EAGLE ALERT: Roy Morrison makes a 2 on #15
Bob Kanduth won TWO Pins; LPM 5 & CTP #8
A total of 8 players had 40 or more points this week
Peter Hodgson, the 1st overall pick in the Seniors League Draft, is your money list leader with $127.41.
Northern Dunes
Week of July 8
Seniors League
CTTP #6 Roger Parsons
Men's League
CTTP #4 Randy Rider
CTTP #11 Jim Williton
Week of July 15
Men's League
CTTP #6 Jim Williton
CTTP #16 Dwight Millar
Kincardine Golf Club
July 11 Men's Night
1st Les Shane
2nd place was an impressive 4 way tie between Jordan Bell, Richard Bowman, Keith Colley Sr. and Ken Ritz.
Ainsdale
Men's Night Results: July 18, 2019
This Week's Sponsor: Barclay Wholesale
A Flight Winners
1st: Ken Bellan 33.4 $36.00
2nd: Dana Murray 35.4 $30.00
3rd: Chris Brown 35.9 $24.00
4th: Derek Regier 36.2 $18.00
5th: Don Turcotte 36.7 $12.00
A Flight Skins Winners
Chris Brown 3 on 16 $19.20
Charles Candler 2 on 12 $19.20
Travis McLaughlin 3 on 10 $19.20
Dana Murray 3 on 18 $19.20
Dennis Schmidt 3 on 13 $19.20
B Flight Winners
1st: Rick Kinjerski 33.5 $19.50
2nd: James Bailey 34.1 $16.25
3rd: Dave Neilipovitz 36.3 $13.00
4th: Derek Elmes 37.3 $9.75
5th: Marty Will 38.6 $6.50
B Flight Skins Winners
James Bailey 4 on 11, 4 on 15 $28.00
Rick Kinjerski 2 on 12 $14.00
Arno Weissenboeck 2 on 17 $14.00
C Flight Winners
1st: Rene Brajuha 33.2 $42.00
2nd: Mike Meraw 34.9 $35.00
3rd: Dalton Regier 35.0 $28.00
T4th: Sean Poisson, Doug McLaughlin 36.2 $17.50
C Flight Skins Winners
Mike Meraw 2 on 12 $36.00
Sean Poisson 4 on 15 $36.00
Dalton Regier 3 on 16 $36.00
D Flight Winners
1st: Ron Lawless 32.8 $34.50
2nd: Chris Stam 34.4 $28.75
3rd: Phil Thompkins 34.8 $23.00
4th: Adam Burgess 36.5 $17.25
5th: Brock Lowry 37.4 $11.50
D Flight Skins Winners
Derek Andrew 3 on 10 $19.20
Dane Dunlop 2 on 12 $19.20
Ron Lawless 3 on 13 $19.20
Jim Martin 5 on 11 $19.20
Todd Thompson 3 on 16 $19.20
50/50 Draw Winner: John Dupuis $45.50 club credit
Draw Prize Winners – Barclay Wholesale
1. Mixed Goodie Gift Basket – Bob Black
Men's Night Results: Thursday July 11, 2019
This Week's Sponsor: MicroAge Basics
A Flight Winners
1st: Steve Jolley 30.7 $40.50
2nd: Don Turcotte 31.5 $33.75
3rd: Gary Chambers 33.2 $27.00
4th: Mike Harper 33.7 $20.25
5th: Blair Chaput 33.9 $13.50
A Flight Skins Winners
Steve Morrison 2 on 8 $36.00
Keegan Newsham 3 on 6 $36.00
Jon Thompson 3 on 2 $36.00
B Flight Winners
1st Dave Neilipovitz 32.6 $19.50
2nd: Brandon Wilson 34.3 $16.25
3rd: Mark Smith 35.1 $13.00
4th: Grant Stevens 35.3 $9.75
T5th: Dennis Schmidt, Ken Gardner
35.8 $3.25 each
B Flight Skins Winners
George Coulter 3 on 4 $11.20
Dave Neilipovitz 3 on 5 $11.20
Brandon Wilson 3 on 1, 2 on 3, 4 on 6 $33.60
C Flight Winners
1st: Arno Weissenboeck 29.2 $37.50
2nd: Sean Poisson 30.2 $31.25
T3rd: Ryan MacMasters 31.9 $21.85
Blair Pollock 31.9 $21.85
5th: Mike McKenzie 32.0 $12.50
C Flight Skins Winners
Boyd Carruthers 3 on 6 $20.00
Chad Carruthers 3 on 1 $20.00
Sean Poisson 3 on 4 $20.00
Arno Weissenboeck 3 on 2, 2 on 8 $40.00
D Flight Winners
1st: D'arcy Scott 30.8 $37.50
2nd: David Blenkinsop 31.0 $31.25
3rd: Nick Locking 31.5 $25.00
4th: Walter Hogg 31.8 $18.75
5th: Don Martyn 32.0 $12.50
D Flight Skins Winners
Drew Armstrong 4 on 9 $27.00
Nick Locking 3 on 2, 3 on 7 $54.00
Jesse MacMasters 3 on 1 $27.00
50/50 Draw Winner: Scott Martyn - $46.50 club credit
Draw Prize Winners –MicroAge Basics
1. $50.00 Club Credit – Tyler Frook
2. $50.00 Club Credit – Tim Palmer
3. $50.00 Club Credit – Brendon Collison
4. $50.00 Club Credit – Phil Thompkins
5. $50.00 Club Credit – Don Turcotte
Ladies Day Results: Tuesday, July 16, 2019
This Week's Sponsor: Barclay Wholesale
A Flight Winners
T 1st: Karen Neilipovitz, Maureen Peet 37 $6.00
3rd: Colette LePage 39 $4.00
A Flight Skins Winners
Karen Neilipovitz 5 on 15 $7.50
Maureen Peet 4 on 13 $7.50
Cindy Schmidt 5 on 14 $7.50
Denise Tighe 4 on 18 $7.50
B Flight Winners
T 1st: Anne Burton, Jean Rhude 37 $6.00 each
T 3rd:Chris McBride, Christie DeGuzman 38 $2.00 each
B Flight Skins Winners
Christie DeGuzman 3 on 12 $15.00
Bev Spence 3 on 17 $15.00
C Flight Winners
T 1st: Alexis Gallant, Norie Dickson, Una MacDonald, Wendy Gardner 37 $4.00
C Flight Skins Winners
Alexis Gallant 6 on 14 $4.80
Wendy Gardner 6 on 11, 5 on 15 $9.60
Judy Gordon 4 on 13, 5 on 18 $9.60
D Flight Winners
1st: Sandy Liddle 32 $7.00
T 2nd Marianne Irwin, Norma Jean Rhody 35 $4.50
D Flight Skins Winners
Sandy Liddle 5 on 10, 7 on 14 $6.40
Barb McBride 3 on 17 $3.20
Rene Renaud 5 on 13 $3.20
Norma Jean Rhody 6 on 15 $3.20
50/50 Draw Winner: Donna Murray - $27.50 on Club Credit
Draw Prize Winners – Thanks to Barclay Wholesale for being the sponsor!
1. Mixed Goodies Gift Basket – Alexis Gallant
Southampton Golf and Country Club
Men's Golf News
The Men's golf crew took to the links for their weekly golf competition on July 11. The guys know that the Club Championship is coming up soon and based on the scores this week, many members are honing their games for this most important tournament.

For example, Derryl Urstadt, who is always a favourite to win the coveted Club Championship title, shot a 39 on the front nine, winning First Low Gross in the A-flight. Mike Pitzen took Second Low Gross with a score of 42. Paul Nugent won First Low Net with a net score of 33 followed by Larry Curtis with a net 35.

In the B-flight, Doug Hamilton took First Low Gross with a 41, two strokes ahead of Jim Norwood, who carded a 43. Fabian Libbus won First Low Net with a net score of 33, followed by Ron Wilson with a net 34. In the C-flight, Jeff Doubt won First Low Gross with a score of 43, one stroke ahead of Gord Moore who won Second Low Gross with a 44. Peter Welford took First Low Net in the flight with a net 33, two strokes ahead of Bill Streeter who finished with a net 35.

Fabian Libbus was Closest to the Hole on the fifth hole and Mike Cleary sunk the Longest Putt on #7.

Senior Men's Golf News

Frank Yakabuski, a strong player with the capability of shooting low scores, won First Low Gross in the A-flight with a fine round of 80, the lowest score carded on July 16. The steady Derryl Urstadt was off his normal game which is usually in the 70s, but hung on to win Second Low Gross with a round of 84. Larry Curtis, whose game has miraculously turned around recently, shot 85 and won Third Low Gross in the flight. Tom Underwood had a great round and won First Low Net with a net score of three under par 69. Doug Hamilton took Second Low Net with a net 74, followed by Bill Hatt with a net 75.

In the B-flight, Scott Powell had a fine 18 holes and carded a 91 to win First Low Gross in the flight. Gord Moore shot 95 to take Second Low Gross, followed by Ron Wilson who shot 99, good enough for Third Low Gross. Fabian Libbus won First Low Net with a net score of even par 72, one stroke ahead of Peter Day who took Second Low Net with a net 73. Dave Ezchiels won Third Low Net with a net 74.

Terry Bailey won the Closest to the Hole competition on the 13th hole and Ron Wilson sunk the Longest Putt on #7.

Ladies Golf News

On July 9, the Southampton Ladies played a full eighteen hole competition, and Denise Buttenaar had the lowest score of the day, winning First Low Gross with a fine 97. Barb Thomson won First Low Net with a net score of 74.

These two ladies really had it going last Tuesday, as they continued their torrid pace by winning the other two prizes up for grabs. Denise Buttennaar went to the prize table again, sinking the Longest Putt on the 4th hole, while Barb Thomson followed up her first award by sinking the Longest Putt on #15.

July 4
Men's golf action was played on the front nine holes at the Southampton Golf and Country Club on July 4. The weather has been great, sometimes a little too hot, but who's complaining after the soggy months we had to endure in the Spring.

In the A-flight, Harold Agla had a fantastic round of one over par, 36 to win First Low Gross – great round Harold! Larry Curtis also had a good game carding a net 33 to win First Low Net in the flight. In the B-flight, Bruce MacGregor shot 41 and won First Low Gross while Tom Underwood wound up with a net 33 and won First Low Net in the flight.

In the C-flight, Fabian Libbus won First Low Gros with a 45, while Rod Chisholm took First Low Net with a net 36. Dave Ezechiels won First Low Gross in the D-flight with a round of 47 and Harland Wake took First Low Net with a net 33.

Harold Agla also sunk the Longest putt on the seventh hole, and Dave Porcellato was Closest to the Pin on the fifth hole.

Senior Men's Golf News

Another great turnout for the Senior Men's Golf day on Tuesday, July 9. The guys' games must be improving as everyone gears up for the Club Championship, coming up in a few weeks, and the scores this week are evident of that.
Derryl Urstadt shot 78 and won First Low Gross in the A-flight, meant for players with handicaps between 8 and 19. Kevin Dagnall was two strokes back and won Second Low Gross with a score of 80, followed by Gary Jeffries with an 81. Terry Bailey's game has improved significantly over the past few weeks, as he won First Low Net with a net score of 66 Dan Selinzi won Second Low Net in the flight with a net 68, followed by Bill Hatt with a net 69.

In the B-blight, Ron Wilson had a super round of 82, easily winning First Low Gross in the flight. Fabian Libbus took Second Low Gross with a round of 95, and Barrie Robson won Third Low Gross with a 98. Gord Moore won First Low Net with a net score of 71 while John Falkingham won Second Low Net with an even par net score of 72. Eric Tait and Mike Cleary shared Third Low Net with net scores of 74.

Barrie Robson won the Closest to the Pin competition on the thirteenth hole and Bill Ferrie sunk the Longest Putt on #16.

- Submitted by Lorne Lazenby