Golf Stories
Around the Clubs
Posted On: Saturday, June 15, 2019
Recent aces and league results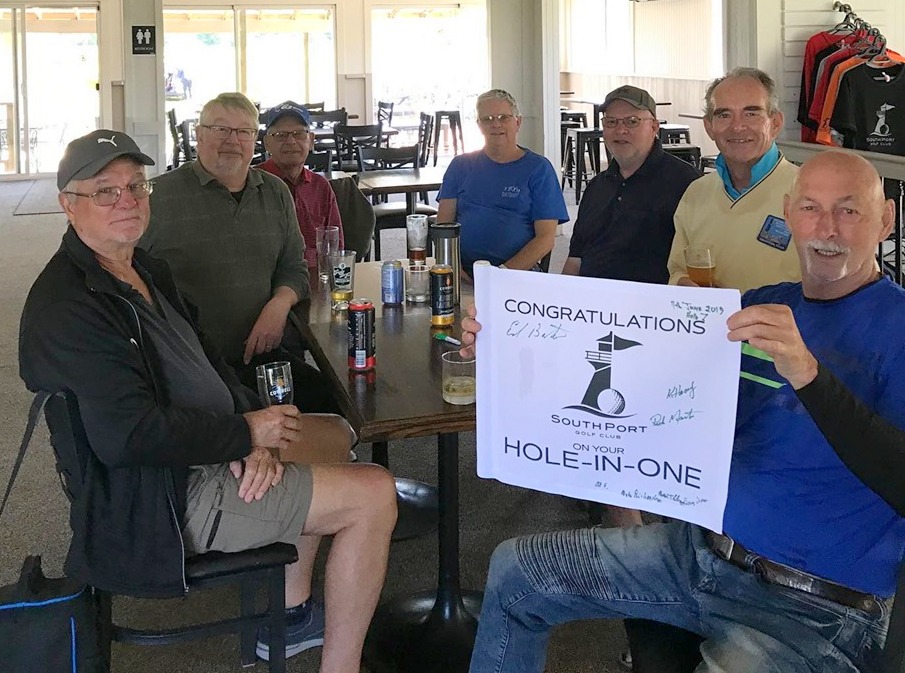 Ed Bates celebrates his June 11 ace at SouthPort Golf Club.

HOLE IN ONE CLUB
June 11 - Member Ed Bates from 133 yards with an 8-iron on #7 at SouthPort Golf Club. He also aced the hole with a 7 iron in 2016.
June 10 - Rob 'Lefty' Matheson on #8 at Legacy Ridge Golf Club during Senior League play.
June 4 - 81-year-old Bill James with a 9-iron from 115 yards on #8 at Legacy Ridge Golf Club. A long-time member, Bill has recorded 5 aces at Legacy over the years. Three of them on #2, and one each on #17 and #8.
May 28 - Louella Ryder on #3 at Kincardine Golf Club.
Legacy Ridge Golf Club
Men's League
June 12 results
Stan's Army (252) marched to a one-point victory over the Steady Eddys (253). Bert Leeder, no doubt inspired by his recent meeting with Rory McIlroy, contributed a neat Net 35 to go along with teammates Jeff Robbins' Net 32 and a Net 33 from our own Sam McEvenue.
In the Season Standings Steady Eddys (134) retain 1st place and Stan's Army (128) tuck in for 2nd.
Ryan Amyot (33) and Chad Currie (33) shared the Low Gross this week. Michael Todd, at 34, is in third place.
Andrew Haefling (Net 31) and Jason Playter (Net 32) submitted the best Low Nets.
PINS WINNERS: $71 LPM #10 - Calvin Peters (16'), LPM #11 - Ken 'Slant' Morrison (16'9") CTH #12 - Jim Burlington (3'4") CPH #14 - Ryan Amyot (3'3") Keg #15 - Michael Rea LPM #16 - Phil Carleton (28'9") CTH #17 - Brendon Haefling (3'4")
50/50 Winner: Bill Henry wins $93
Notable Skins: Tim Cox bagged himself a 'deuce of deuces' on #14 and #17 in SGF 5-7 to claim a tidy $61.50. Ken Harwood won his skin on #10 with a Par 4 in SGF 8-10.
Season Low Goss and Net Average leaders:
Chad Currie is 'still the man' with a Low Gross Average of 34.
Michael Todd is in 2nd with 35.60
Steve Irving in 3rd 35.75
Ryan Amyot 4th 35.80
Mike McManus is Low Net leader, averaging 34.75. Terry Duncan and Grady Linseman are close on his tail averaging net 35.
Good News, bad News for 'Lefty.' Rob Matheson had a Hole in One on #8 in the Senior League this past Monday. Not only did he miss the huge money on offer in the Men's League by two days, but the Senior League was cancelled before he completed the round. No skin! The good news for Lefty was there were only two players left in the bar to buy for when he got in, and he posted a neat 78 in deplorable conditions.
June 5
"Some like it hot but..."
Most golfers like it 'hot' but some of our golfers obviously like it wet. Brent Keeling made the biggest splash with his Low Gross 33 shot despite the weather conditions. This followed hard upon by our regular pantheon of low grossers: Chad Currie 34, and Michael Todd 35. Other mudders of note and players having notable season PBs were: John Murdoch, Ron Glenn, Dave Alviano and Peter Morgan.
The Steady Eddys (347) were unbeatable this week. Brent Keeling's Gross 33 and Chad Currie's Gross 34 achieved this aided and abetted by a slew of low-netters: Tom Doherty, Pete Morgan, Logan Strauss, Dan Blackburn, Coy Kulich, Tim Cox, Wim Kruisselbrink and Bill Graham.
The Steady Eddys (103) have surfaced at the top of the Season Standings with Stan's Army (98) surfing into second. The Roughneckers, the previous season leaders, have sunk to fourth.
Rob 'Lefty' Matheson's lone skin on #17 in SGF 5-7 earned himself a tidy $96 that allowed him to replace Bill Douglas at the top of the Skin Money List.
Dan Shaw 50/50 Winner: $75.
PIN winners were: ($62): LP #11 Bill Sipprell (14'4"), CTP #12 Adam Barfoot (7'10"), CP #14 Don Grandsen (13'3"), Keg #15 Dave Bedford, LP #16 Bill Sipprell (18'4"), CP #17 Jason Playter (10'8"), LP #18 Don Grandsen ( 27'5").
Senior Men's League
June 3
The Grip Rippers are off to a strong start in 2019. Last week they tied for 1st place and this week they take solo 1st with 208 Stableford points! Stellar play by Mike McManus, Neil Havens, Peter Hodgson, Captain Murdoch, Tom Potter and Dave Cruickshank steered the team to victory. Each team member will add $4.38 to their credit book.
Pins Winners ($26.42):
LPM #1- Roger Amyot (11' 7")
LPM #6 – Tom Potter (11' 6")
CTP #8 – Lance Thurston (7' 4")
CTP #12 – Barry Coke (4' 8")
LPM #16 – Peter Hodgson (6' 1")
CTP #17 – Barry Coke (7' 10")
LPM #18 – John Murdoch (10' 10")
Need to Know:
Roger Amyot had 38 net Stableford points and wins a free appetizer in the clubhouse.
Bob Nicol had two skins on Monday; 4 on #10 and 4 on #13
Barry Coke had THREE skins; 3 on #2, 3 on #7 and 3 on #17
The June 10th Seniors League was rained out.
Northern Dunes
Men's League Results:
Week 5
CTTP #6 Dwight Millar
CTTP #16 Tom Binkley
Leaderboard
1. Tom Binkley 21
2. Rick Whyte 17
3. Tom Mitchell 16
4. Roger Parsons 14
5. Jim Wyonch 13
Ainsdale
Ladies Day Results: Tues. June 4, 2019
This Week's Sponsor: Tartan Home Inspections

A Flight Winners
T1st: Denise Tighe
Karen Neilipovitz (39)
3rd: Sharon MacDonald 40 $4.00
A Flight Skins Winners
Maureen Peet 3 on 17 $7.00
Denise Tighe 5 on 16 $7.00
B Flight Winners
1st: Antoinetta MacDonald 36 $7.00
2nd: Jen Lawrie 38 $5.00
3rd: Una MacDonald 39 $4.00
B Flight Skins Winners
Laura Haight 3 on 17 $10.00
Jen Lawrie 5 on 13 $10.00
Antoinetta MacDonald 5 on 11 $10.00
C Flight Winners
1st: Beth Mimnagh 31 $7.00
2nd: Susan Morrison 36 $5.00
T3rd: Alexis Gallant, Diane Sutter, Heather Struthers 41
$1.33 each
C Flight Skins Winners
Alexis Gallant 6, on 14, 4 on 18 $9.60
Beth Mimnagh 5 on 11, 5 on 13 $9.60
Susan Morrison 5 on 15 $4.80
D Flight Winners
1st: Kristy Garneau 33 $7.00
2nd: Chris McBride 40 $5.00
T3rd: Deb Quinn, Mhairi Guenther 42
$2.00 each
D Flight Skins Winners
Kristy Garneau 5 on 11, 5 on 14 $7.20
Mhairi Guenther 5 on 16, 5 on 18 $7.20
Deb Quinn 6 on 15 $3.60
E Flight Winners
1st: Bonnie Ritchie 31 $7.00
2nd: Jackie Mitchell 37 $5.00
3rd: Barb McBride 41 $4.00
E Flight Skins Winners
Bonnie Ritchie 5 on 13, 7 on 14, 6 on 15 $18.00
50/50 Draw Winner: Nancy Stewart $29.50 on club credit
Draw Prize Winners – Tartan Home Inspections
1. $75.00 Club Credit – Deb Quinn
2. $25.00 Club Credit – Diane Small
3. $25.00 Club Credit – Kristy Garneau
4. $25.00 Club Credit – Vicki Willits
Men's Night Results: Wed. June 12, 2019
This Week's Sponsor: Mill Creek Chocolates
A Flight Winners
1st: Gordon Yoon 33.1 $27.00
2nd: Scott Martyn 33.2 $22.50
3rd: Mike Harper 33.7 $18.00
4th: Brad Knight 34.6 $13.50
5th: Dana Murray 34.8 $9.00
A Flight Skins Winners
Scott Martyn 3 on 2 $36.00
Phil Willits 4 on 9 $36.00
B Flight Winners
1st: Rick Kinjerski 32.8 $21.00
2nd: Ken Bellan 33.1 $17.50
3rd: Don Turcotte 33.8 $14.00
4th: Arno Weissenboeck 34.8 $10.50
5th: Steve Morrison 35.0 $7.00
B Flight Skins Winners
Steve Morrison 3 on 5, 2 on 8 $48.00
Dave Neilipovitz 3 on 1 $24.00
Ethan Skinner 4 on 9 $24.00
Murray Wardell 3 on 2 $24.00
C Flight Winners
1st: Dave Beamish 29.4 $30.00
2nd: Boyd Carruthers 30.2 $25.00
3rd: Ken Quinn 32.4 $20.00
4th: Mike Doyle 32.9 $15.00
5th: George Coulter 33.4 $10.00
C Flight Skins Winners
Boyd Carruthers 4 on 9 $20.00
George Coulter 3 on 4 $20.00
Lynn Finlayson 3 on 7 $20.00
Tyler McCarthy 3 on 1 $20.00
D Flight Winners
1st: Rene Brajuha 31.4 $40.50
2nd: Chad Colling 32.7 $33.75
3rd: Victor DeGuzman 33.3 $27.00
4th: Evan Dyer 33.4 $20.25
5th: Pete Alexander 34.0 $13.50
D Flight Skins Winners
Paul Botting 3 on 2 $108.00
50/50 Draw Winner: Phil Thompkins $39.50 club credit
Draw Prize Winners – Mill Creek Chocolates
1. Chocolate-covered Popcorn & Twizzler Set - Sebsatien Garneau
2. Assorted Chocolates – Matt Lovie
3. Gold Box of Chocolates – Bob Black
4. Chocolate Golf Balls – Gordon Yoon
5. Chocolate Golf Clubs – Sean Poisson
6. Silver Box of Chocolates – Travis McLaughlin
7. Striped Box of Chocolates – Ken Bellan
8. Golf Ball Chocolate Set – Dana Murray
Pike Lake
Men's Nights Results
June 6, 2019
Game: Scramble
54 Players
1st Score: | 58| Tom Gordon, John Hostrawser,
Mike Barron, Domenic David
2nd Score: |59| Clint Baker, Dave Gillis, Doug Lucas, Bryon
Johnston
3rd Score: | 62| Tim Andrews, Dave Benn, Adam Basic and
Will Salnek
Closest to the Pins: Hole #5: Harold Levy
Hole #7: Bob Melligan | Hole #10: Mike Vickery | Hole #12:
Terry Pyke
May 30, 2019
Game: Scramble
62 Players
1st Score: | 30 Retro| Terry Pyke, Bill Torek, Mike Vickery
and Ron Burgess
2nd Score: |30| Pat Murphy, Bob Melligan, Drew Inglis and
Harold Levy
3rd Score: | 36 | Alvin Bowman, Truman Phillips, John
Hostrawser and Myrwood Scott
Closest to the Pins: Hole #5: Harold Levy
Hole #7: Bob Melligan | Hole #10: Mike Vickery | Hole #12:
Terry Pyke
Southampton Golf & Country Club
Men's Golf

On June 5, the Southampton Men took to the links in a low gross and low net competition. The field was broken into four flights based on the players' handicaps and the play took place over the front nine holes.

In the A-flight, Mike Pitzen was four over par 39 and won Low Gross in the flight. Jimmie Baillie took Low Net with a two under par net score of 33. In the B-flight, Charlie Schmalz had a great nine holes, carding a 42 and winning Low Gross honours in the flight. Ron Wilson took Low Net with a net score of 33

In the C-flight, Barry Dicks shot 41 and took Low Gross honours in the flight while Jim Norwood had a great round and won Low Net with a net score of 31. Gord Moore won Low Gross in the D-flight with a round of 48, while Bill Thomson took Low Net with a net 36.

Closest to the Pin winner on the fifth hole was Hugh Morrison and Peter Welford sunk the Longest Putt on the seventh hole.

A great turnout for Men's Day on May 30 at Southampton Golf and Country Club. Some pretty good golf was played as the players were divided into four flights with both low gross and low net prizes awarded in each flight.

In the A-flight, Derryl Urstadt took First Low Gross, followed by Phil Hunt, who took Second Low Gross honours. Jimmie Baillie won First Low Net, followed by Gary Jeffries. In the B-flight, Terry Bailey had a great round of golf and wound up in first place in the flight. Terry won First Low gross while Peter Quigley took second spot. Charlie Schmalz won First Low Net, a stroke ahead of Paul Nugent who won Second Low Net.

In the C-flight Mike Cleary pulled his game together and won First Low Gross in the flight. Doug Hamilton won Second Low Gross, while John Hale took First Low Net followed by Peter Welford. In the D-flight, Barry Dicks won First Low Gross, followed by Jim Norwood. Fabian Libbus won First Low Net while God Moore took second place.

John Hale sunk the Longest putt on the 7th hole.

Senior Men's Golf News

Finally, the rain stopped and the Southampton Senior Men got out to play on June 4. Prizes were awarded for Low Gross and Low Net results over an 18-hole competition.

Hugh Morrison was the lowest player of the day, and won First Low Gross with a score of 82. Steady Derryl Urstadt took Second Low Gross with an 85, while Mike Pitzen won Third Low Gross with a score of 88. Gary Jeffries won fourth Low Gross with a score of 90, while Barry Dicks rounded out the prizes with a 93.

Bill Hatt took First Low Net with a net score of 71, followed by Charlie Schaltz with a net 73. John Hale was only one stroke back and won Third Low Net with a net 74 while Larry Curtis and Ron Wilson shared Fourth Low Net honours with net scores of 76.

Barrie Robson sunk the Longest Putt on the seventeenth hole.

A good turnout for the eighteen hole Senior Golf competition on June 11. The field was separated into four fights with some added prizes this week.

In the A-flight, Derryl Urstadt, one of the steadiest players in the competition, won First Low Gross with a round of 82. Doug Hamilton, who has been shooting some great golf lately, took First Low Net with a net score of five under par 67. In the B-flight, Terry Bailey won First Low Gross with a round of 93 while Kevin Dagnall took First Low Net with a net 72.

In the C-flight, Rod Chisholm won First Low Gross with a fine round of 91, and Mike Cleary, whose game is starting to come around, won First Low Net with a net score of 73. Barrie Robson shot 96 to win First Low Gross in the D-flight, while Joh Falkingham took First Low Net with a net 76.

Barry Dicks won the Closest to the Pin competition on the 18th hole, and Harland Wake sunk the Longest Putt on #16.

Doug Hamilton won Low Hidden Hole with a birdie 3 on the 12th hole, and John Falkingham won the High Hidden Hole with an 8 on #12.

- Southampton golf news submitted by Lorne Lazenby