Golf Stories
Dixon finishes 5th
Posted On: Tuesday, May 28, 2019
At Canadian University/College Championship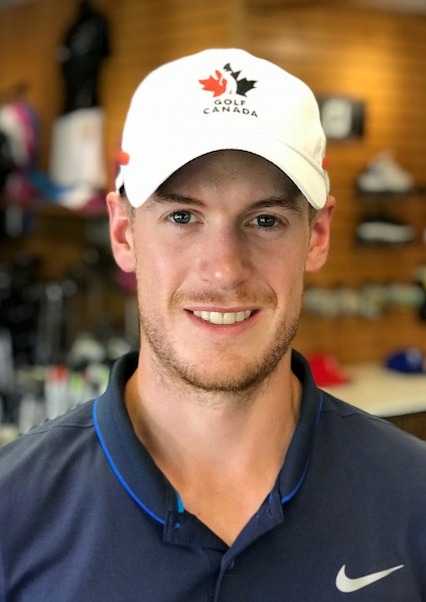 Owen Sound-area golfer Josiah Dixon (in photo above) shot a final-round 70 (-2) and finished tied for 5th at the Canadian University/College Championship.
Dixon, a member of the Guelph Gryphons team, finished just three shots back of Western Mustangs' Charles Fitzsimmons and Jackson Bowery, who were deadlocked at -8 after 54 holes.

Fitzsimmons prevailed in a playoff to win the individual title.
After rounds of 72-67-74-70, Dixon finishes the tournament with a -5 total.
His Guelph team finished eighth in the Team Division, which was won by UBC Thunderbirds in a playoff over the Mustangs.
Another golfer from the BruceGreySimcoe region - Collingwood's Tyler Cormier - shot a final round 74 to help his Waterloo Warriors team to a 6th place finish. He ended up tied for 41st in the individual competition.
Walkerton's Blake Mackey, who plays for Fanshawe Falcons, shot 76-78-74 and narrowly missed the cut, which came after 54 holes.
His team also failed to make the cut.
In the Women's Division, Sarah Dunning of Guelph Gryphons shot a final-round 69 (-3) to claim the individual title.
UBC Thunderbirds won the Women's Team division, defeating Laval Rouge et Or by one stroke.
The 72-hole tournament was held at FireRock Golf Club in Komoka, Ontario.

For full scoring details, CLICK HERE