Golf Stories
Two from area in national championship
Posted On: Monday, May 27, 2019
Josiah Dixon & Blake Mackey among competitors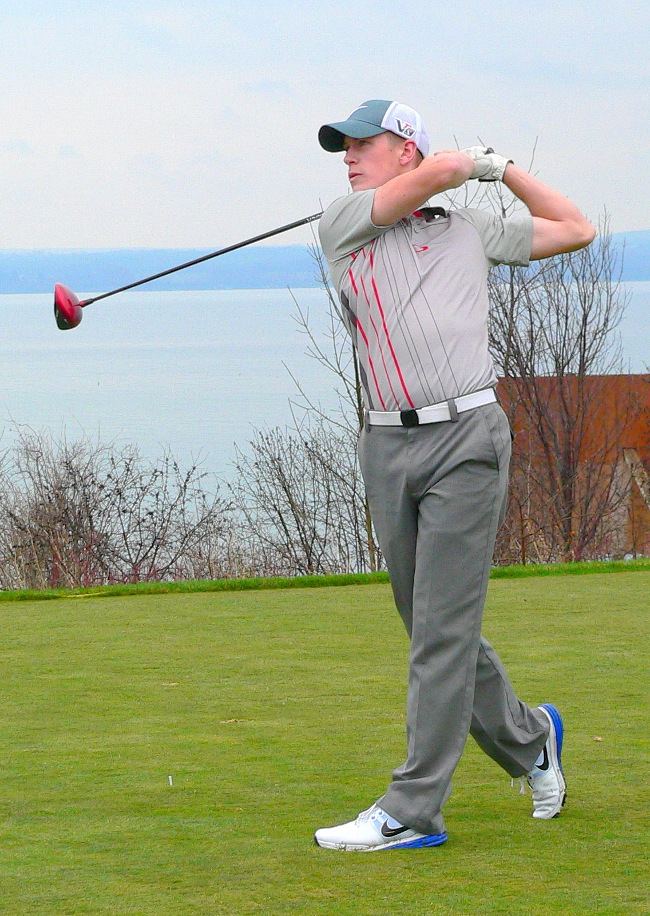 Two golfers from the Grey-Bruce region will be among the competitors in the Canadian University/College Championship this week at FireRock Golf Club in Komoka.
Josiah Dixon from the Owen Sound area (photo above) will tee it up with the Guelph Gryphons team while Walkerton's Blake Mackey will compete as a member of the Fanshawe Falcons, host school for the event.
Dixon joined the Gryphons last year and had an outstanding fall season, finishing tied for first three times and 3rd twice in five events.

Mackey, in his second season with the Falcons, finished 4th in the Ontario Colleges Athletic Association (OCAA) Championship last fall, helping his team win a silver medal.
The championship kicks off Tuesday, May 28 and runs until Friday, May 31.
This will be the 17th playing of the event, which was established in 2003 by Golf Canada to give the country's best college and university golfers a chance to compete at a national championship.
"We are thrilled to welcome the best Canadian student golfers to FireRock Golf Club," said host club Director of Golf & Events Amanda Cosentino in a Golf Canada news release. "We're looking forward to a competitive championship and showcasing our beautiful course."
"The Canadian University/College Championship provides a unique opportunity for the best student-athlete golfers in Canada to represent their school and compete for a national championship," said Tournament Director Dan Hyatt. "Golf Canada is proud to conduct this event to showcase the talent from universities and colleges across the country."
In 2018, Avril Li went wire-to-wire to capture the women's individual title and help the University of British Columbia Thunderbirds to their third consecutive Canadian University/College Championship. Li was the only female competitor to shoot under par, finishing at four-under, a full seven strokes ahead of the competition.
Daniel Campbell of the University of the Fraser Valley Cascades captured the individual men's title by shooting three rounds in the 60s during the tournament. Campbell's play helped UFV win the team title, becoming the first host school to win the team championship since 2014.
The 72-hole stroke play competition will feature 20 men's teams and 12 women's teams from across the country vying for the national championship titles.
Following the third round, the field will be reduced to the top 10 men's teams and top six women's teams, or any team within 15 shots of the lead. Individuals within 10 shots of third place will also make the cut, or any player within the top 10.
For more information, including pairings for tomorrow, CLICK HERE