Golf Stories
Rachael Rier returning to Ontario
Posted On: Friday, May 24, 2019
Finishes strong at Michigan school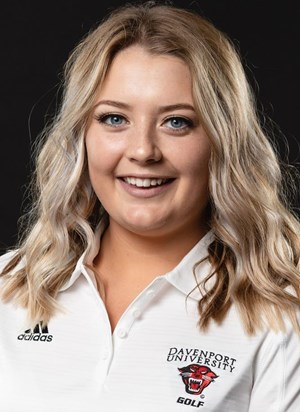 Hanover's Rachael Rier has made the tough decision to leave Davenport University in Grand Rapids, Michigan and her position on the women's golf team to pursue studies in Ontario.

"My program wasn't what I hoped it would be academic wise, and as hard as it was to make the decision, I know I have to put my academics first," she states in an email to Golf BruceGreySimcoe.

"I'm going to be completing my degree in golf management at Georgian College (in Barrie) while I play for the Grizzlies ladies team. It'll be nice to be closer to home and pursue a degree more focused on my passion."

She had been studying Sports Management at Davenport.

The transfer to Georgian comes after a record-breaking year for Rachael's Davenport team, which wrapped up its season with a runner-up finish in the Great Lakes Intercollegiate Athletic Conference Championship.

The Division II Panthers were ranked 102nd in the nation but made it to the final match play championship against the 10th-ranked Grand Valley State. And while Davenport lost all five matches in the final, all of them were decided by three strokes or less.

Rier, who was 17th in the stroke play portion of the tournament, shot 80 in the finals and lost her match by just one shot.

In making it to the finals, the team set a 54-hole scoring record.

Coach Melanie Loughin was thrilled with the result.

"What an unbelievable weekend! We finished ninth in 2018 and second this year! Talk about improvement," she states in an article on the school's website.

"It's been our goal the entire year to make it to the medal match play. It feels so good to accomplish it. I'm beyond proud of this group."

For Rier, it was a strong finish to a great season with the team.

"My second year at Davenport was a huge success. I couldn't have asked for a better group of girls to play with, and I'm so happy we saw a little more success on the course this year. We actually broke every team record this year, so that's an accomplishment I'm so proud to have been a part of."

"I loved playing for Davenport, and I'm so grateful for the time I got to spend there, but I'm excited to see what the future holds for me at Georgian."