Golf Stories
Mackey qualifies for Men's Am
Posted On: Wednesday, May 22, 2019
Walkerton golfer shoots 74 at Firerock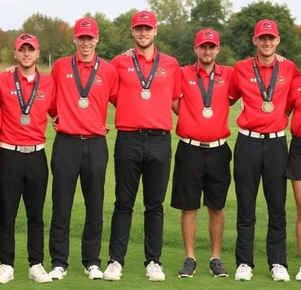 Blake Mackey is second from left in this Fanshawe Falcon team photo, taken after they won silver medal at OCAA Championship last fall.


Walkerton's Blake Mackey has qualified for the Ontario Men's Amateur Championship.
He fired a 74 (+3) at Firerock Golf Club in Komoka to earn one of 17 spots available at the qualifier. The Men's Am will be held July 11-18 at OslerBrook Golf & Country Club near Collingwood.
Earlier this month he joined Fanshawe Falcon teammate Bradley Byers and finished tied for 14th in the Ontario Better-Ball Championship.
Mackey plans to play a number of competitive events this summer in preparation for his final year at Fanshawe where he will once again be a member of the golf team.
He finished 4th in the Ontario Colleges Athletic Association (OCAA) Championship last season and helped his team win a silver medal.