Golf Stories
Record-breaking event for Rachael's team
Posted On: Wednesday, March 27, 2019
Davenport team 2nd in Kentucky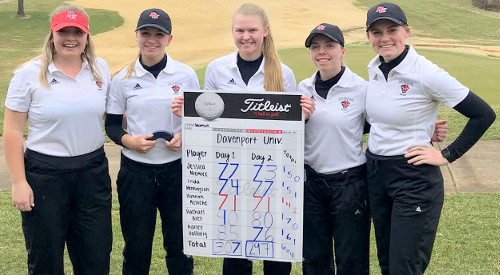 Hanover's Rachael Rier, far left, with her Davenport University women's golf team.


Rachael Rier's Davenport University women's golf team finished 2nd and set individual and team records at the Lawrence Tech Heritage Hill Invitational in Shepherdsville, Kentucky.
The team established 18-hole and 36-hole records and freshman Hannah Meloche tied the 18-hole individual record twice and set a new 36-hole record.
Meloche shot one-under-par 71s both days to win the individual crown at the event.

She also notched a hole-in-one on hole 11 during round two, which is only the second ace in program history.
Rier, from Hanover, Ontario, shot rounds of 90-80 and finished 18th. She is in her second year at Davenport, which is located in Grand Rapids, Michigan.
The event, held March 23-24 at Heritage Hills Golf Club, was won by Indiana Tech University with a 599 total.

Davenport was 5 strokes behind with a team total of 604.