Golf Stories
Mackey finishes strong
Posted On: Wednesday, October 17, 2018
Final round 72 at college championship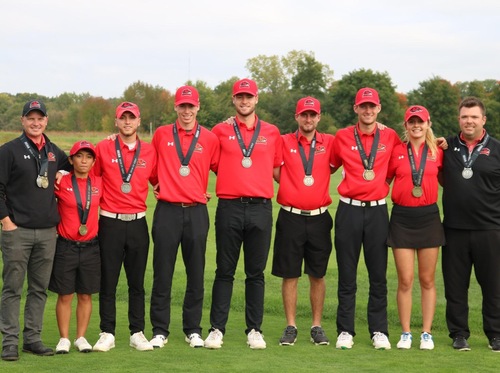 Walkerton-area golfer Blake Mackey shot an even-par round of 72 on the final day of the Canadian Collegiate Athletic Association Golf Championship.
The Fanshawe Falcons captain finished in 36th place and helped his team to a 5th finish. He had the lowest round of the day among his five-member team.
Mackey's Friday round - his best of the tournament - included five birdies, three bogeys and one double bogey.
After an opening round 83, Mackey played the Desert Blume Golf Golf Club in Medicine Hat in a combined 7 over par.
The Fanshawe team secured 5th place with a 1,183-stroke total (+31) over four days.
Winning the team competition was Boomerang d'Andre-Laurendeau from Quebec with 1,138 strokes (-14).
The Fanshawe team results are:
T-15th Thomas Code 79-67-72-76
T-21st Braydon White 76-75-72-76
T-21st Brad Byers 76-72-76-75
25th Ryan Harvey 77-81-70-73
36th Blake Mackey 83-77-74-72
The top individual was Laurent Desmarchais of Boomerang d'Andre-Laurendeau (72-69-66-68).
For more information, CLICK HERE