Golf Stories
Great success for Josiah Dixon
Posted On: Wednesday, October 3, 2018
Owen Sound-area golfer competing for U of Guelph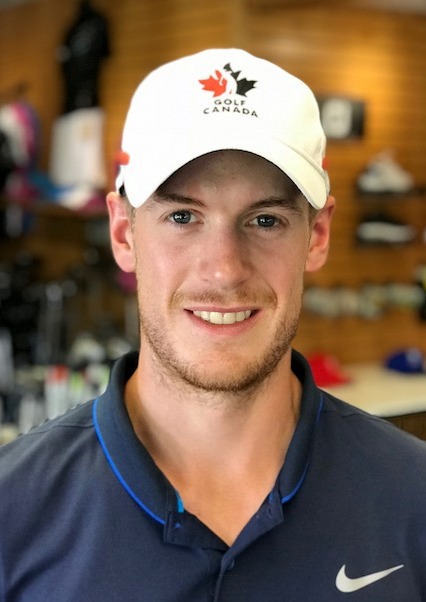 Owen Sound-area golfer Josiah Dixon fired a 71 in cold and wet conditions this week to help his University of Guelph men's team win the Gryphon Invitational.
Dixon, a first year physics student, finished 3rd in the event, which was held Monday at his team's home course of Cutten Fields in Guelph.
The team won by 17 shots over the University of Waterloo.
Dixon's latest achievement is part of a stellar rookie season that has included three ties for first (they don't have playoffs to break ties) and two ties for third in the five events he has played in this fall.
He was named the university's Athlete of the Week in mid-September after shooting 68 and tying for first at the Queen's Invitational and shooting 73 and tying for 3rd at the Carleton Invitational.
"Given Josiah's great track record, I was not surprised at his solid and sometimes spectacular play on the weekend," said head coach Tim O'Connor after Dixon was named Athlete of the Week.
"His swing is tour player quality, and he has a terrific record of championship experience to draw on. He hits solid shots and plays smart golf that is exciting to watch, which included a 50-foot chip-in for eagle on Sunday. We already had a solid team to start with, and he elevated our team as soon as he showed up for tryouts."
Here are his and team results so far this fall season.
Sept. 13 - Western Invitational (Didn't play) Team 3rd
Sept. 15 - Carleton Invitational T-3rd (73) Team 2nd
Sept. 16 - Queen's Invitational T-1st ( 68) Team 2nd
Sept. 23 - Brock Invitational T-1st (71) Team 2nd
Sept. 27 - McMaster Invitational (didn't play)
Sept. 29-30 Waterloo/Laurier Men's Invitational T-1st (68-71) Team 1st
Oct. 1 - Guelph Invitational 3rd (71) Team 1st
Dixon, who played previously for the Niagara College Knights and won an individual and team national championship with them in 2016, is enjoying being part of a team again.

"We have a great group of players who are both talented and good to be around. Plus, since golf is generally such an individual sport, the opportunity to be part of a team is a unique experience that can be very special if you have good teammates," he said.
While the golf has been great so far, school has been "a bit of grind."
"Having been out of school for several years and coming to a university as opposed to a college is certainly an adjustment, especially in a scientific discipline like physics, but I'm sure I will acclimatize and adapt eventually," he said.
The next event for the Gryphons is the Ontario University Association Championship from Oct. 14-16 at Heron Point Golf Links near Ancaster.