Golf Stories
Mackey helps team win silver
Posted On: Tuesday, October 2, 2018
Walkerton golfer shoots under par on final day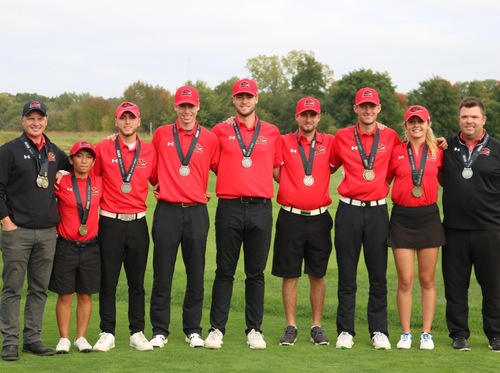 Fanshawe Falcons men's and women's teams after finishing 2nd and 1st respectively at the OCAA Championship. Blake Mackey is fourth from left in the photo.

Walkerton-area golfer Blake Mackey shot 70 (-1) today, finished tied for 4th and helped his Fanshawe College team win a silver medal at the Ontario Colleges Athletic Association Men's Golf Championship.
Mackey, Fanshawe's team captain, was the only player among the 57 competing to shoot under par today.
His Fanshawe team ended up in second, just four strokes behind the gold-medal winning team from Humber.
Mackey, a member at Walkerton Golf and Curling Club and BlackHorse Golf course, shot 76 on Monday and 74 on Tuesday and finished with a +7 total.
Fanshawe's Braydon White shot 70-71-72, finished at even par and won the individual honours. He was six strokes ahead of runner-up Brady Zordan of Georgian College (75-71-72).

Fanshawe's Thomas Code shot 71-75-79 and finished 11th and teammate Ryan Harvey shot 76-83- 74 and tied for 15th.

With the second place finish, the Fanshawe team has qualified for the Canadian Collegiate Athletic Association (CCAA) national championships Oct. 16-19 at Desert Blume Golf Course in Medicine Hat.

For more information and results CLICK HERE