Golf Stories
No exemptions for BGS golfers
Posted On: Monday, July 23, 2018
Shanty Bay golfer best from region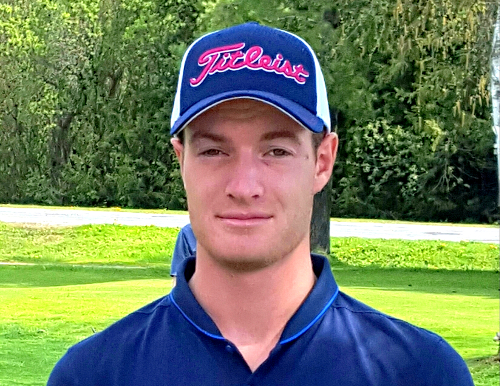 Seventy-five golfers competed today for four spots in the RBC Canadian Open but the four BruceGreySimcoe golfers were not among the ones earning exemptions.
Drew Nesbitt of Shanty Bay Golf Club (pictured above) had the best result of the BGS golfers, shooting an even-par 71 at Heron Point Golf Links near Hamilton and finishing tied for 26th.
Last year Nesbitt shot 66 in the qualifier and earned a spot in the Canadian Open where he played well, shooting 72-69 and missing the cut by just one stroke.
Qualifying this year were Michael Gligic of Burlington (67), Russell Budd of Toronto (67), Justin Yong Woo Kim of Hamilton (68) and Mitch Sutton of London, Ont. (68).
Five players shot 68, which forced a playoff to decide the two final spots. Kim advanced on the first playoff hole thanks to a birdie, while Sutton, a Team Canada alumni, birdied the second playoff hole to earn his exemption.
The other BGS golfers were Terry O'Brien of Barrie, who shot 74 and tied for 43rd, and G.W. King of Thornbury and Branson Ferrier of Barrie who both shot 77 and tied for 59th.
Below are full qualifier results from the 2018 RBC Canadian Open Final Qualifying.
1. Michael Gligic, Kitchener, ON, *36-31-67 -4
1. Russell Budd, Toronto, ON, *35-32-67 -4
3. Justin Yong Woo Kim, Hamilton, ON, *34-34-68 -3
3. Mitchell Sutton, London, ON, *34-34-68 -3
-- DID NOT QUALIFY --
3. Blake Olsen, Pensacola, Florida, *37-31-68 -3
3. Seung-su Han, Las Vegas, NV, *33-35-68 -3
3. Tyler McCumber, Ponte Vedra Beach, FL, *35-33-68 -3
8. Raoul Menard, Ange-Gardien, QC, *33-36-69 -2
8. Étienne Papineau (a), St-Jean-sur-Richelieu, QC, *34-35-69 -2
8. Riley Wheeldon, Comox, BC, *33-36-69 -2
8. Taylor Penrith, Richmond Hill, ON, *36-33-69 -2
12. Keith Martin, Kelowna, BC, *37-33-70 -1
12. Keven Fortin-Simard, Chicoutimi, QC, *35-35-70 -1
12. Adrian Cord, Toronto, ON, *36-34-70 -1
12. Kevin Stinson, Mission BC, *37-33-70 -1
12. Devin Carrey, White Rock, BC, *36-34-70 -1
12. Jake Scott, Strongsville, OH, *37-33-70 -1
12. Sonny Michaud, Neuville, QC, *35-35-70 -1
12. Michael McGowan, Pinehurst, NC, *36-34-70 -1
12. MJ Dauffee, Kingwood, Texas, *37-33-70 -1
12. Chase Seifert, Panama City Beach, FL, *34-36-70 -1
12. David Mathis, Wakeforest, NC, *36-34-70 -1
12. Christopher Vendetta (a), Beaconsfield, QC, *34-36-70 -1
12. Domenico Geminiani, Bradenton, FL, *35-35-70 -1
12. Joseph Harrison, Boulder City, NV, *36-34-70 -1
26. Drew Nesbitt, Shanty Bay, ON, *34-37-71 E
26. David Iaderosa (a), Ottawa, ON, *36-35-71 E
26. Ken Duke, Stuart, FL, *36-35-71 E
26. Greyson Sigg, Augusta, GA, *35-36-71 E
26. Johnny Travale (a), Stoney Creek, ON, *37-34-71 E
26. Peyton Callens (a), Langton, ON, *35-36-71 E
32. Brendan Seys (a), Port Lambton, ON, *33-39-72 +1
32. Nick Kenney, Mississauga, ON, *36-36-72 +1
32. Éric Laporte, St-Liguori, QC, *36-36-72 +1
32. James Seymour, Aurora, ON, *37-35-72 +1
32. Bennett Ruby (a), Waterloo, ON, *35-37-72 +1
32. Pierre-Alexandre Bédard, Chibougamau, QC, *39-33-72 +1
38. Dom Lalonde, Châteauguay, QC, *39-34-73 +2
38. Brian Churchill-Smith, Oakville, ON, *36-37-73 +2
38. Tim Alarie, St-Jérôme, QC, *37-36-73 +2
38. Vincent Blanchette, Boucherville, QC, *42-31-73 +2
38. T.J. Vogel, Pembroke Pines, FL, *36-37-73 +2
43. Terry O'Brien, Barrie, ON, *39-35-74 +3
43. Zach Zaback, Cromwell, CT, *36-38-74 +3
43. Ben Griffin, Chapel Hill, NC, *40-34-74 +3
46. Matt Lemay (a), Waterloo, ON, *38-37-75 +4
46. Gordon Burns, Holland Landing, ON, *37-38-75 +4
46. Chris Wilson, Toronto, ON, *38-37-75 +4
46. Philip Arci (a), Vaughan, ON, *38-37-75 +4
46. Khan Lee (a), Langley, BC, *39-36-75 +4
46. Jay Delsing, St. Louis, MO, *37-38-75 +4
46. Scott Strohmeyer, Auburn, AL, *39-36-75 +4
46. Bill Walsh, Markham, ON, *40-35-75 +4
54. Jacob Presutti (a), Brampton, ON, *39-37-76 +5
54. Sebastian Szirmak, Toronto, ON, *38-38-76 +5
54. Derek Gillespie, Oshawa, ON, *38-38-76 +5
54. Matt Matheson (a), West Vancouver, BC, *37-39-76 +5
54. Ted Purdy, Phoenix, AZ, *40-36-76 +5
59. Blair Hamilton, Burlington, ON, *43-34-77 +6
59. G.W. King, Thornbury, ON, *40-37-77 +6
59. Branson Ferrier, Barrie, ON, *38-39-77 +6
59. Robert Wilkinson (a), Dundas, ON, *37-40-77 +6
59. Nigel Sinnott, Chilliwack, BC, *41-36-77 +6
59. Yank Laforest, Mirabel, QC, *41-36-77 +6
59. Thomas Critch (a), Hamilton, ON, *43-34-77 +6
66. Greg Lewis, Dundas, ON, *41-37-78 +7
66. Freddy D'Angelo (a), Fonthill, ON, *43-35-78 +7
66. Luke Ovenden, Georgetown, ON, *40-38-78 +7
66. Griffin Jones (a), Mantic, ON, *41-37-78 +7
70. Riley Davenport, Saint Simons Island, GA, *37-43-80 +9
71. Jake Montemurro, Toronto, ON, *45-39-84 +13
72. Jake McNulty, Port Perry, ON, *44-42-86 +15
--- DID NOT FINISH ---
WD. Brett Cairns, Cortland, ON, *
WD. David Morland, Palm Coast, FL, *
WD. Brian Davis, Windermere, FL, *