Golf Stories
Keddy top golfer from area
Posted On: Tuesday, June 26, 2018
At PGA Championship of Canada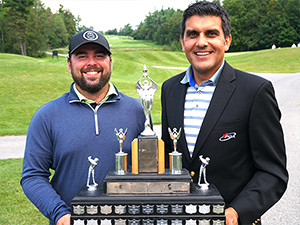 Thomas Keddy, left, is shown in this file photo after winning the PGA of Canada - Ontario Zone - Assistants Championship last year at National Pines GC.

Thomas Keddy of OslerBrook Golf and Country Club near Collingwood qualified for match play in the PGA Championship of Canada, won his first match then lost to the eventual champion.
He was the lone BruceGreySimcoe golfer to make it through to match play after shooting rounds of 72-69 and finishing tied for 12th.
Only the top 16 qualified for match play.

In his first match, Keddy defeated Jean Laforce of Quebec 4 & 3 (4 up with three holes to play).
However, he lost 2 & 1 to Pierre-Alexandre Bedard of Club de Golf Cap Rouge in Quebec in an afternoon match. Bedard had won his morning match 7 & 6 over Oliver Tubb.
Bedard went on to win the championship, defeating Gord Burns 1-up on a relentlessly hot and humid Friday at Credit Valley Golf and Country Club.
"This is definitely the biggest win of my entire life and I'm so proud of myself," Bedard said after the match. "It's so incredible to have my name on the same trophy as all the legends who came before me, not to mention all my fellow Quebecers who have won this championship over the past couple years."
Since 2011, six PGA of Canada members from Quebec—Vincent Dumouchel, Eric Laporte, Dave Levesque, Marc-Etienne Bussieres, Jean-Philip Cornellier and now Bedard—have captured the PGA Championship of Canada.
Bedard's week included finishing T12 in the medal play portion of the event with rounds of 70-71.
"The stroke play rounds were definitely the toughest part of the week for me because my game wasn't really that incredible," Bedard said. "But I knew if I could make the match play rounds I could have a chance to win this championship."
His semi-final match versus past PGA Championship of Canada winner Bryn Parry is being heralded as the match of the week going 22 holes.
In the stroke play portion of the championship, Gary Jeffrey (70-74) of The Academy at Georgian Bay Club (GBC) and Terry O'Brien (73-71) of Cedar Links Golf Centre in Barrie were in an 11-way playoff for the 16th and final position but lost in a four-hole playoff.
The other BGS golfer in the field - G.W. King of The Academy at GBC - shot 73-77 and tied for 45th.