Golf Stories
Celebrities help cause
Posted On: Tuesday, June 5, 2018
Sports figures attend Crime Stoppers event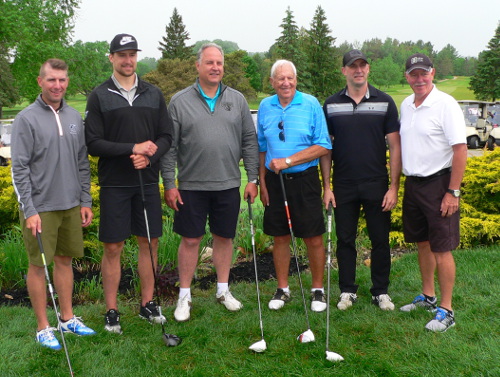 From left are, NHL referee Kendrick Nicholson, Kurtis MacDermid (LA Kings/Ontario Reign), former NHLer Paul MacDermid and former NHL goalies Les Binkley, Curtis Sanford and Billy Smith.

The 26th annual Crime Stoppers of Grey Bruce golf tournament was a great success, raising $25,000.
The event, held at Saugeen Golf Club on June 1, attracted several sports celebrities, including four-time Stanley Cup winner Billy Smith of the New York Islanders and sportscaster Brian Williams (Williams wasn't able to golf but was on hand for the dinner where he entertained golfers with stories from his broadcasting career).
Other sports celebrities in attendance were:
Les Binkley, the starting goalie for Pittsburgh Penguins in their inaugural season in the NHL. He also has won Stanley Cup championships as a scout with the Penguins in 1991 and 1992.

NHL referee Kendrick Nicholson, who worked 72 games this past season.

Former NHL and KHL goalie Curtis Sanford, who now works in goalie development with the Vancouver Canucks.

Kurtis MacDermid, who split this past season between the NHL's Los Angeles Kings and the Ontario Reign, the Kings' American League team in California.

Former NHLer Paul MacDermid, who played about 700 games in the big leagues.
The Crime Stoppers event has raised more than $500,000 over the 26 years.