Golf Stories
Austin Ryan wins at Cobble
Posted On: Thursday, October 7, 2021
One-stroke victory at Toronto Players Tour event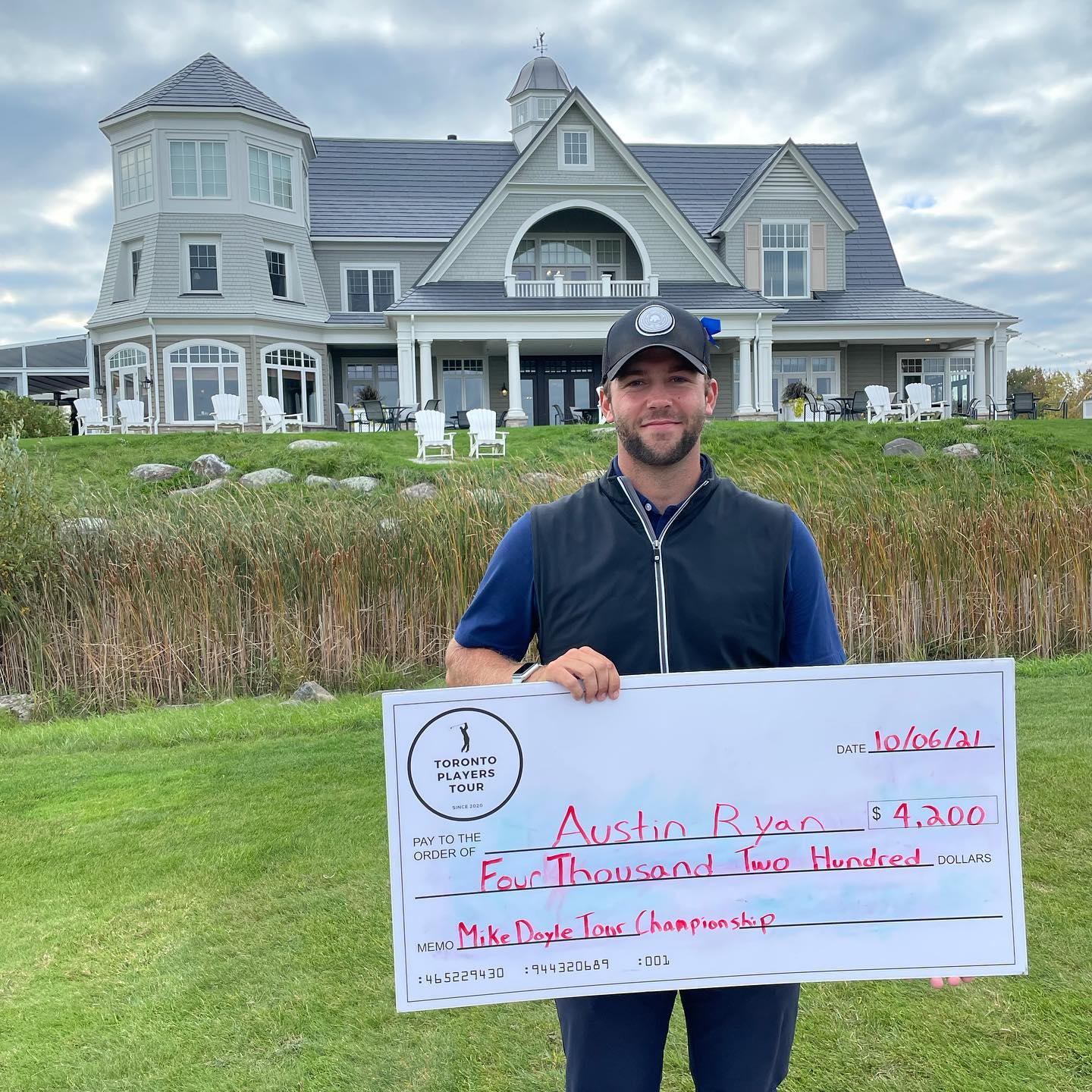 Austin Ryan obviously likes playing golf in the BruceGreySimcoe region.

The current resident of Waterloo grew up playing golf in Owen Sound and since turning pro he has won three times in the area.

His most recent win was Oct. 5 at Cobble Beach Golf Links where he came from behind to win the Toronto Players Tour (TPT) Mike Doyle Championship.

A final round 68, including a birdie on the 17th hole, secured a one-stroke victory over Chris Wilson, David Sheman and Derek Gillespie.

The win was worth $4,200.

Ryan, a two-time champ on Grey Bruce Junior Tour and a standout player with the Wilfrid Laurier University golf team, finished third on the TPT this season and collected a $2,000 bonus for that accomplishment.

Ryan also won the TPT event at Saugeen Golf Club near Port Elgin in 2020 and the Legacy Ridge Golf Club's Pro-Am in 2019 with a competitive course record score of 63.
For full scoring results from the TPT event at Cobble, CLICK HERE

To learn more about Ryan, check out the article below which was published in Golf BruceGreySimcoe magazine in 2018.


From June 2018 Edition of Golf BruceGreySimcoe
It might come as a surprise that a guy who has become one of the best university golfers in the country couldn't make his high school golf team in Grade 10.
But that cut from the OSCVI team was just the push Austin Ryan needed to become an elite golfer.
From that point on, the Owen Sound student was extremely motivated to improve his game, playing or practising almost every day of the week.
"That (cut from the team) really hit me and I remember playing 130 times in one summer," he said in an email.
During his high school days he worked and played at Stone Tree Golf and Fitness Club just south of Owen Sound.
And it was there that he built the foundation for his future success. "I've always said that working at Stone Tree and playing there was the best thing and the starting point of my golf game," he said in an email to Golf BruceGreySimcoe.
"The atmosphere at Stone Tree was what was really important. There was always someone I could talk to about my game and get better from, like my good friends in the backshop (Johnny Ewasko, Brady Welsh, and Stephen Kiss) and the older guys in the pro shop (Trent MacDonnell, Sam McEvenue, Andy O'Leary and Michael Todd).
Once he dedicated himself to getting better, the results started to come. And by the time he headed off to Wilfrid Laurier University he had won two Grey Bruce Junior Golf Tour overall titles (2011, 2012), the Stone Tree Amateur (2013) and competed in an Ontario Men's Amateur Championship, making the cut and qualifying for the Canadian championship.
His success continued at Laurier where he was the golf team's Rookie of the Year for the 2013-14 season and was the team's Most Valuable Player for every season after that.
In 2016, he shot 69-69 (-4) and won the Ontario University Association (OUA) individual championship at Ambassador Golf Club in Windsor. In doing so, he became the first Golden Hawk since 2002 to win the individual gold medal.
One year later he shot 73-71 and won a bronze medal in the same championship, which was held at Loch March Golf and Country Club in Kanata. His strong play helped the team finish 5th, which qualified them for this year's national championship.
He was also selected to the first OUA All-Star Team in each of his final two seasons.
Another career highlight was his selection to compete in the Universiade (University Olympics) in Taiwan in August 2017. He shot 74-72-71 and finished 18th and was the top Canadian.
"Travelling to Taiwan was definitely one of the best experiences I've ever had. Playing with players who are in the top 50 world amateur rankings and taking my game across the world was something else," he said.
Another highlight was being nominated for the President's Award in 2016 for the Top Male Athlete at Laurier. While he didn't win, he felt honoured to be considered.
And he's pleased with what he has been able to accomplish during his time at Laurier.
"Overall, I felt like my varsity career was special. Coming into Laurier the golf program wasn't really strong and over my 5 years I've really seen the growth in the program and I see the team being near the top in the OUA," he said.
Head coach Jeff Colley says much of the credit for the team's improvement has to go to Ryan, who was team captain for his final three years.
"Austin has been instrumental in helping our golf program at Laurier progress in a positive direction and become one of the best programs in the country. His leadership within the team will be greatly missed but we're hoping he stays connected to the program in a assistant coaching role."
Ryan was known during his time in Owen Sound for his tireless dedication to the game and that's something he continued at Laurier.
"Austin's work ethic is extraordinary which has led him to become one of the best and most consistent players in Canadian University golf," said Colley.
His time on the Golden Hawks golf team came to an end last month when he competed in the Canadian University/College Championship at Chilliwack, British Columbia. He shot 70-71-71-72 and tied for 6th, making him the top player on his team and improving on his tied-for-7th performance in the championship the previous year.
"Honestly it (the championship) was bittersweet. I always look forward to the fall semester because that means OUA golf. It will be tough not representing the purple and gold next year," he said.
"At the end of the day I'm done playing for Laurier but I still have strong connections to the team and my coach, so maybe I'll help out in the future."
Now graduated with an Honours degree in Economics and Finance with a minor in Geography, the Waterloo resident is currently working for a sales and marketing firm in Cambridge.
But competitive golf may still be in his future. "I've really been thinking about maybe turning pro and trying out the mini-tours. It seems everyone I talk to is pushing me to try out the pro career for a few years and see how it works out."
"If there's a time the time is now to try it or I may regret it in the future. I've thought about trying the Great Lakes Golf Tour and seeing where that takes me."